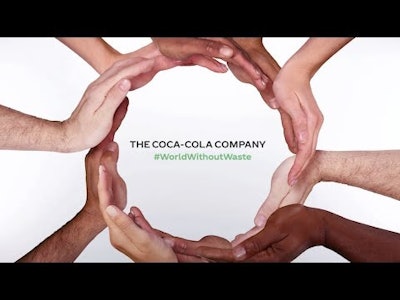 Coca-Cola has announced what it says is an industry-first goal to collect and recycle the equivalent of every bottle or can it sells globally by 2030. The company and its global network of bottling partners will tackle the goal, which is part of a holistic plan called World Without Waste, through a renewed focus on the entire packaging life cycle—from how bottles and cans are designed and made, to how they're recycled and repurposed.
"Consumers around the world care about our planet. They want and expect companies like ours to be leaders and help make a litter-free world possible," says James Quincey, President and CEO, The Coca-Cola Company. "Through our World Without Waste vision, we are investing in our planet and in in our packaging to help make the world's packaging problem a thing of the past."
Quincey adds that the company will continue to focus on developing 100%-recyclable packaging and reducing the amount of plastic in its bottles.
According to Coca-Cola, its World Without Waste vision is the next step in a broader strategy to grow with conscience by doing business the right way, not just the easy way.To help improve recycling rates, Coke says it will apply its "global marketing muscle" to help educate the public on what, how, and where to recycle. The company also will continue to team with local communities, NGOs, industry peers, and consumers to help make recycling easier and more accessible for everyone by improving local recycling systems and driving policy change that supports a truly circular economy.
In 2002, Coca-Cola bottlers in Mexico joined the country's plastics industry and leaders from other industries to create Ecology and Corporate Commitment (ECOCE), a nonprofit organization dedicated to encouraging a culture of recycling, and funded the creation of two food-grade PET plastic recycling facilities. These investments are paying off, Coca-Cola says. In 2016, Mexico recycled 57% of the PET plastic it produced (up from 9% in 2002), making it the leading country globally for PET recycling.
Coke's 100% collection and recycling goal will primarily focus on bottles, cans, and caps made from glass, PET, or aluminum—which represent approximately 85% of its packaging—as well as packages produced by other companies.
"We believe every package—regardless of where it comes from—has value and life beyond its initial use," Quincey says. "If something can be recycled, it should be recycled. So we want to help people everywhere understand how to do their part."
To help tackle existing packaging waste, Coca-Cola will continue to work with existing partners such as The Ocean Conservancy/Trash Free Seas Alliance, World Wildlife Fund (WWF), and the Ellen MacArthur Foundation (New Plastics Economy initiative) to support a debris-free environment. Since 1995, Coca-Cola has been the lead sponsor of the world's largest volunteer effort benefiting the marine environment: Ocean Conservancy's International Coastal Cleanup. Over the course of that partnership, the company has helped mobilize 20 million people to clean up 220 million pounds of trash from more than 375,000 miles of coastline.
Watch a video on the announcement here.
Companies in this article