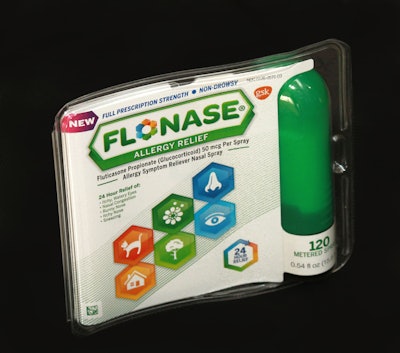 For the first time, the Institute of Packaging Professionals (IoPP) announced its 2015 AmeriStar Package Awards Competition winners virtually as opposed to at a live event.
Winners were presented online June 29 and June 30 at www.iopp.org/ameristar. An online description of the three winners in the Drug & Pharmaceutical category is available here.
Judges evaluated and analyzed packages from 14 categories in an online, virtual judging process during the month of April. Judging was based on package innovation, sustainability, protection, economics, performance, and marketing. Top AmeriStar winners included the Best of Show Award, the Sustainable Package Award and, the Design Excellence Award.
Drug & Pharmaceutical winners included the following:
• Flonase OTC launch—Secondary Pack, from GlaxoSmithKline Consumer Healthcare.
Flonase Allergy Relief' OTC pack is innovative clamshell pack with a sinusoidal flow design. The pack has a clutter breaking structure differentiating it on shelf and brilliant graphics that provide visibility. The information bundle in the pack engages the patient through colorful mnemonics and text. The pack is put together utilizing a custom-made, fully automatic, robot assisted, turret type assembly line that is 100% QC capable, ensuring quality and compliance.
• Microdermis Provodine from Ampac.

Microdermis developed Provodine®, the next-generation professional antiseptic that meets or exceeds U.S. FDA requirements for use as a Surgical Scrub, Pre-Operative Skin Preparation, Healthcare Personnel Hand Wash and First Aid Antiseptic. Ampac designed and developed a seven-layer, chemical resistant, high-barrier laminate with built-in directional tear properties for ease of opening and product dispensing. The U.S. Army has begun using the product in the fight against Ebola in West Africa.
• Biogen's Factor Hard Pack (Eloctate and Alprolix)

The Factor Hard Pack is an injection-molded case used to transport lyophilized drug product, diluent syringe, and components to aid in the reconstitution of the product. Hemophiliacs and caregivers are able to easily infuse at home or on the go with the convenient Hard Pack. The design embodies input from the patient community through extensive market research and diligent packaging engineering. The case conveniently folds down, allowing access to the drug and components in a stable and functional presentation.
IoPP also announced the following Student Ameristar winners:
• 1st Place Student: Cotton Swabs Redesign, University of Wisconsin Stout,
Carrie Kierstyn, Jacob Meicher, Jason Introwitz.
• 2nd Place Student: Contact Solution Bottle and Case, Cal Poly State • University, Rachel Berman, Elaine Cohen, Rachel King, Kevin Chiu.
3rd Place Student: Easy to Open and Child Proof Prescription Bottle, Cal Poly State University, Mariah Barnum, Tyler Beaty, Arek Boloyan, Scott Burbach, Kathryn Cassidy.
• Honorable Mention: EZ Pour Funnel, Cal Poly State University, Jordan Sligh, Shamus Smail, Devadasi Stuart, Aline Schmitz, Blake Tillery
• Honorable Mention: No-Mess-Scara, Cal Poly State University, Taylor Crump, Rachel Day, Galen Dresser, Sean Gorman, Jonathan Han.
The Institute of Packaging Professionals (IoPP) is an individual membership organization serving the educational needs of the packaging community. It is committed to providing continuing educational programs of interest and value to all packaging professionals.
Companies in this article