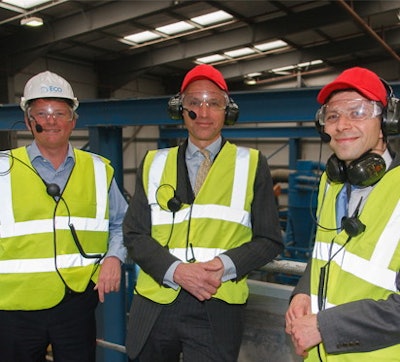 Continuum Recycling, the pioneering recycled-PET joint venture between Coca-Cola Enterprises (CCE) and ECO Plastics, celebrated its one-year anniversary by reaching the milestone of half a billion bottles processed since opening in May 2012. If placed end-to-end, all the bottles sorted to date would stretch around the earth more than twice (calculated based on the approximate 20-cm length of a 500-mL Coca-Cola bottle).
To mark the completion of Continuum's first full year in operation, CCE and ECO Plastics welcomed Lord de Mauley, parliamentary under secretary at the Department for Environment, Food and Rural Affairs (DEFRA), for a tour of the facility. Said de Mauley, "Continuum has shown the real benefits of recycling. It has helped to cut down on waste and brought millions of plastic bottles back into use that would have otherwise been sent to landfill. The plant has further helped Lincolnshire's rural economy to thrive by creating more job—this is exactly what we want to see."
Located on the site of ECO Plastics' existing facility in Hemswell, Lincolnshire, the development of Continuum Recycling created the world's largest plastics reprocessing facility, more than doubling the amount of bottle-grade rPET previously created in Britain. The site is now responsible for processing around 50% of all the plastic bottles collected in the U.K. and played a key role in Coca-Cola's recycling efforts during the London 2012 Olympic and Paralympic Games. In total, some 15 million plastic bottles were collected from games venues and returned to shelves as part of 63 million new bottles, during a process that lasted as little as six weeks.
Along with the plant's environmental credentials, which include saving a level of CO2 equivalent to taking more than 15,700 cars off the road per year, the partnership has helped to boost the rural economy of Lincolnshire, creating over 30 new jobs since opening.
Companies in this article