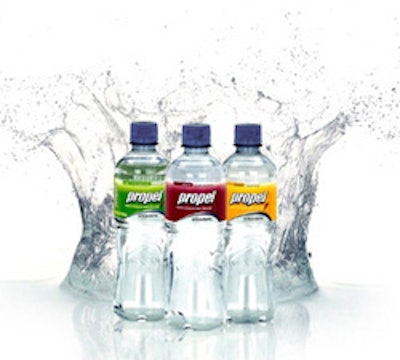 One proven method toward "greening" of PET (polyethylene terephthalate) beverage containers is through lightweighting of the bottles, a trend that appears to be gaining momentum.
In mid-April, PepsiCo announced that it is relaunching a more environmentally responsible Propel, a low-calorie, nutrient enhanced water beverage.
Along with product formulation enhancements, for 2009 the brand is modernizing its look and packaging. A new 500-mL bottle uses 33% less plastic and 30% less label than the previous 500-mL bottle. From an energy saving standpoint, this packaging change is the equivalent of taking 6,800 cars off the road or eliminating 37,450 metric tons (41,282 U.S. tons) of greenhouse gases a year.
"We are excited to offer a fresh new spin on a category leader, as Propel is an original that helped launch the entire vitamin-enhanced water beverage aisle," says Danielle Vona, vice president for Propel. "With an enhanced portfolio of products and a new eco-friendly look and design, Propel is providing those on-the-go with a great tasting, low-calorie enhanced water with antioxidants and now with additional nutrient options."
New flavors and packaging are in stores now in 20-oz. and 24-oz. single bottles and 16.9-oz. 6-packs and 16.9-oz. 12-packs at grocery, c-store, mass and drug stores nationwide.
Half-liter Aquafina lightens up
PepsiCo proved itself active on the environmental front: Also for April introduction, the company achieved a 'sustainable design trifecta' with the lightweight, 10.9-g Eco-Fina bottle.
Aquafina brand bottled water will be available nationwide in the new Eco-Fina Bottle, the lightest 0.5-L bottle of any nationally distributed bottled water brand in the market, according to PepsiCo. At a weight of just 10.9 g, the Eco-Fina Bottle is made with 50% less plastic than the 0.5-L Aquafina bottles produced in 2002, eliminating an estimated 75 million lb of plastic annually.
In addition to light-weighting the 0.5-L bottle, Aquafina is driving additional environmental benefits by producing the package right at Aquafina purification centers where filling occurs and by eliminating cardboard base pads from Eco-Fina Bottle 24-packs, which will contribute to saving 20 million lb of corrugate by 2010, says PepsiCo.
"The Eco-Fina Bottle represents more than simply innovative packaging design. It showcases our commitment to develop best-in-class products, packages, and manufacturing processes while acting responsibly in everything we do," says Rick Gomez, chief marketing officer, hydration brands at Pepsi-Cola North America Beverages. "We're excited to answer the call of our consumers by offering the same great-tasting, pure water in a much lighter and more eco-friendly 100% recyclable bottle."
The new Eco-Fina Bottle features an eye-catching "rippled web" design that goes beyond aesthetics, ensuring its structural soundness and functionality. New, contemporary shrink-wrap packaging graphics, featuring the Eco-Fina Bottle logo, will further enhance the brand's on-shelf presence.
"Consumer research confirms that we achieved our desired objective, which was a 'sustainable design trifecta' – a bottle that looks better, functions better, and is better for the environment," says Robert Le Bras-Brown, vice president of packaging innovation and development at PepsiCo. "The new design leverages structural engineering that allows the Eco-Fina Bottle to support 50 times its weight in water while offering consumers a contemporary, attractive package that meets their needs."
Reduced-weight PET bottle pours on benefits for TalkingRain
Of course, PepsiCo isn't the only company proactive with weight reductions.
TalkingRain Beverage Co. of Preston, WA, has reduced the weight of its packaging through the use of a new stock hot-fill 20-oz PET bottle from Graham Packaging called the G-Lite bottle. The bottle, which features a thinner base than traditional hot-fill containers, will be used for the vitamin-enhanced flavored waters TalkingRain produces for co-branding with one of its major customers.
According to TalkingRain CEO Doug MacLean, the decrease in plastic resin used in the bottle equates to a cost reduction of nearly 5%, what he calls a "meaningful savings." Not to mention the 250 pounds less per truckload in weight savings and the fact the bottle is fully recyclable. The customer probably won't notice any difference, MacLean says, but the switch to the new bottle is part of the commitment to sustainability.
"We're looking at every avenue we can to cut down on the packaging we use," MacLean explains. "This especially helps with customers of ours like Costco that have deep-seated environmental goals."
As these and other companies prove, "losing weight" appears to be as healthy for packaging and marketers in today's environment as it is for people.
Companies in this article