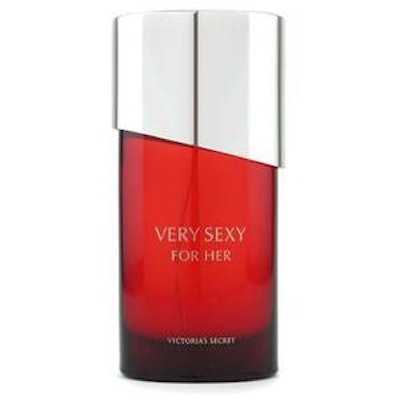 That was the conclusion arrived at by Patrick Moschitto and his colleagues at Victoria's Secret when they took a close look at their firm's sustainable packaging position. The director of packaging development at VS was among the speakers at a Sept. 10 LabelExpo conference session on sustainable packaging. LabelExpo runs Sept. 9-11 in Rosemont, IL.
The product category Moschitto focused on was fragrances, body washes, creams, and other beauty aids marketed by VS. He and his team quickly realized that their packages were in many ways the antithesis of sustainability. By way of example, he showed a 3.4-oz package of Very Sexy perfume, pointing out its thick PET bottle, foil-stamped decoration, and molded overshell (shown).
"The design of packages like this guarantees that if they ever get anywhere near a recycling facility, they'll be rejected," said Moschitto. "So what can we do with this package? Introducing post-consumer recycled PET would be a start. But intelligent design should also be part of the solution. Why color the PET? Why the thick overshell? It's important to understand the implications of a package design and to design for recycling."
Moschitto then asked the audience how many had ever been to a recycling center. Only a few hands went up.
"You have to go to a recycling center, and bring some of your packages with you to ask the recycler's opinion of them," he said. "It's fascinating. All they want to do at these places is make PCR. So they want packages with critical mass and high volume behind them. They want clear soft drink bottles with easily removed labels. They don't want heavy bottles that are tinted cobalt blue and are decorated with foil hot stamping."
Internal 'scorecard' developed
Following their trip to a recycling center or two, Moschitto and his team came up with their own sustainable scorecard. "It's largely a matter of grading our existing packaging based on how a recycler would react to it," he told his audience. Where decoration is concerned, Moschitto suggests keeping a few key things in mind:
• If you direct-print the package, tint the PET, or decorate with a nonremovable label, you complicate a recycler's ability to turn it into PCR.
• If you can't eliminate a label, reduce its size.
• To the extent possible, think more like the designer of a beverage bottle.
Moschitto's presentation was refreshingly candid because he articulated repeatedly that the VS perspective on sustainable packaging is that of an organization with a long way to go. He made it clear that Shashi Batra, president of Victoria's Secrety Beauty, has a firm commitment to making sustainable packaging a priority. Most observers agree that the backing of top management is a huge first step.