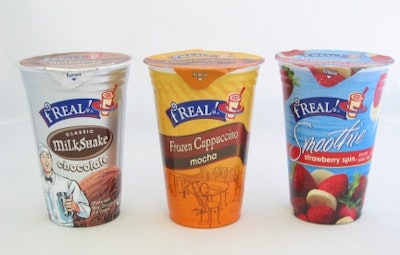 In a recent change to its packaging, frozen food marketer f'REAL! Foods, Orinda, CA, demonstrated a creative way to pretest a package rollout in a "live test" situation. Although it was a real-world deployment, it served as a market test, too.
As a result, company management was well-positioned for adjustments to the ensuing broad-based rollout and to the packaging. In fact, it yielded "numerous" general and specific benefits, according to f'REAL director of operations Jens Voges.
f'REAL switched from preprinted, 10-oz cups to shrink-sleeved cups as a way to differentiate its products, both from its competition and within a family of products containing three distinct lines: milkshakes, frozen capacinio, and fruit smoothies.
And the secret is…
f'REAL's secret? Ahead of a planned conversion of all 10 products, the company began the conversion with an 11th item, what it called a limited-edition product. For this one product, it used the new shrink sleeves for the first time, which permitted it to test the shrink sleeves in real-world conditions to maximize what could be learned. By its very nature, a limited-edition product would be packaged different from its current package format. The fact that it was "limited" reduced the risks involved.
"We did one thing right, and that is that we first introduced the sleeve on a limited-edition product, eggnog milkshake," discloses Voges. "That was a good way to get a lot of the learning out of the way upfront before we jumped into all the rest of the items. There was quite a bit of learning in that step."
Voges says it was really a result of economics and timing. "The tooling required to produce rotogravure shrink-sleeve artwork is significant, certainly for a small company like ours. We wanted to try it out on one item before investing across the entire line.
"If we weren't happy with the results, our losses would have been small. Likewise, since eggnog was only going to be on the market for a limited period of time, we wouldn't run the risk of having to reintroduce it in a different package. We also just happened to be introducing eggnog four months after initiating the shrink sleeve project, so it was a pretty natural decision."
Benefits
Voges says the benefits of a "preintroduction" using the sleeved eggnog cups were numerous.
"Generally, it allowed us to conduct a full and comprehensive supply-chain test on the new packaging.
"Specifically, it helped us optimize our artwork design for shrink sleeves, especially the inherent challenges associated with the artwork distortion.
"It also helped us optimize the adhesive pattern for our sleeves. And it helped us improve the shrink sleeve application process in a low-volume, low-stress situation."
Certainly something to consider is a way to overtly, yet covertly, test your next packaging innovation under real-world conditions in a low-risk way.
To hear a Podcast of our interview with f'REAL's Jens Voges, click
here
.