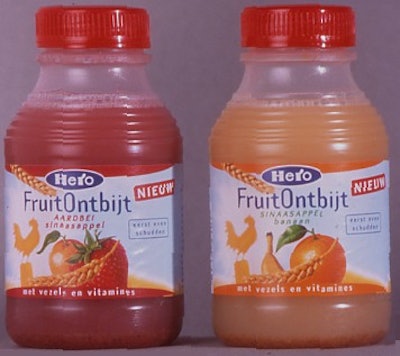 Millad was recommended to Hero by packaging supplier Plysu (Gent, Belgium). Plysu uses Millad during extrusion blow-molding of the bottles, made from a polypropylene-grade resin from Borealis (Copenhagen, Denmark).
"Plysu's cPP bottle concept allows us to present FruitOntbijt in the most transparent bottle possible. That was a critical aspect in the marketing-mix of the product. We're very pleased with the bottle's clarity," says Stephan van Diest, Hero's purchasing manager.
"Using cPP clarified with Millad 3988 was the best choice for three reasons," says Piet Gruwez, Plysu's marketing director. "It is a low-cost material compared to polyethylene terephthalate and polycarbonate; it has a low density, which results in low bottle weight, and is compatible with our process, which allows us to produce cost-efficient bottles without additional investments in machinery."
Consumer testing ruled PE out because it wasn't clear enough. And, since PET and PC were deemed too expensive, Hero determined that cPP was the only viable material. Further marketing details regarding FruitOntbijt were not available at press time.
Companies in this article