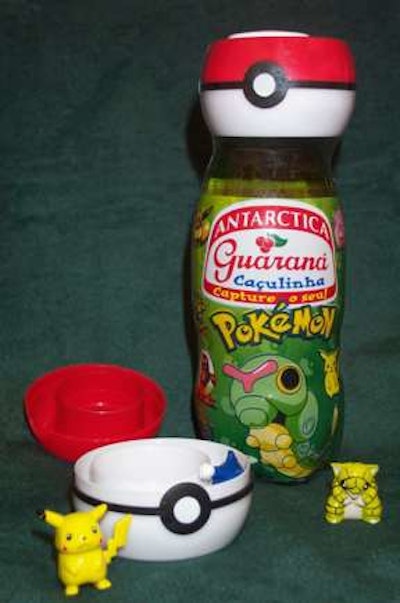 Having a winning cap on a beverage bottle is a favorite promotional gimmick, but São Paulo, Brazil-based Ambev takes that concept two steps further.
For one thing, the company's 237-mL (8-oz) Antarctica brand guarana beverage bottles have a Pokémon™ figure onboard, contained within the patented, hollow Cap Container from Cap Design Intl. Ltd. (Century City, CA). Ambev's two-piece polypropylene ring-shaped Cap Container is molded in the form and colors of a Pokémon ball. The ring-shaped topper, which is 2'' in diameter and is 1¼'' tall, fits over the regular 28-mm plastic screw cap closure atop the polyethylene terephthalate bottle.
Extends beyond promotion
For another, Packworld.com is told that this is not a promotion, but an added-surprise drink line that will continue with other licensed themes that target the latest children's trends. Despite the fact that product pricing went from pre-Pokémon $0.25 to Pokémon $0.75 (U.S. equivalent), it is reported that there is enormous demand for the products, with repeat orders and consumer lines at checkout in stores. This motivated Ambev to continue the Pokémon product as a line extension rather than a temporary promotion, Packworld.com was informed during InterBev. It was also noted that 50 million of the Pokémon Cap Containers were manufactured.
Introduced in mid-September, the line of five different shrink wrapped bottles carry graphics highlighting five different Pokémon characters. The shrink wrap secures the manually applied Cap Container, which surrounds the regular closure, to the bottle. Altogether, there are 40 different capped figures offered. The figures measure about 1'' tall and fit inside the wider part of the asymmetric, ring-shaped Cap Container.
Packaging World spotted the packaging at the supplier's booth at the InterBev tradeshow, held December 4-6, 2000, in New Orleans.
Companies in this article