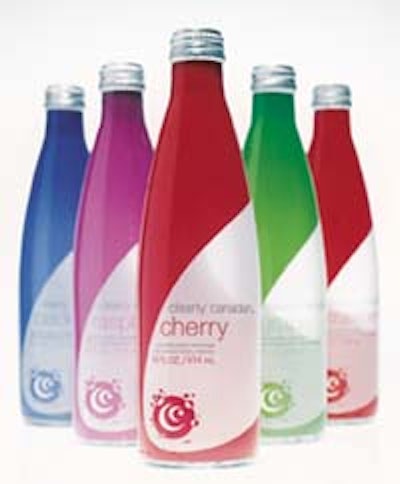 Consumer research, steadily declining sales and a desire to introduce a diet version of Clearly Canadian all helped fuel the revamp, says Jonathan Cronin, vice president of marketing at a U.S. affiliate of Clearly Canadian Beverage Corp., which is based in British Columbia, Canada. The new design is courtesy of Karacters Design Group (Vancouver, British Columbia, Canada). "What we needed to do was draw their attention back to the brand," Cronin explains.
Different sleeve colors correspond with each of five regular flavors and two diet choices. Manufactured and gravure-printed in six colors by CCL Industries (Willowdale, Ontario, Canada), the sleeve is made of Eastar® PETG copolyester from Eastman Chemical (Kingsport, TN). PETG was chosen because its shrink properties allow it to conform to the bottle sidewalls more effectively than other materials, says Cronin.
Bottles are sleeved online by a PDC (South Norwalk, CT) sleeve applicator at speeds of 325/min. Factoring in the cost of materials and capital outlay for machinery, says Cronin, the new package costs about the same as its predecessor(see Packaging World, June '97 p. 103, or packworld.com/go/cc).
"Feedback has been wonderful," Cronin says. Clearly Canadian hit supermarket and convenience store shelves nationwide last month and retails for 99 cents to $1.09.
In a hurry? Request more info via Web-based reader service by clicking on the reader service number.
Or you can jump right to their Web site.
Companies in this article