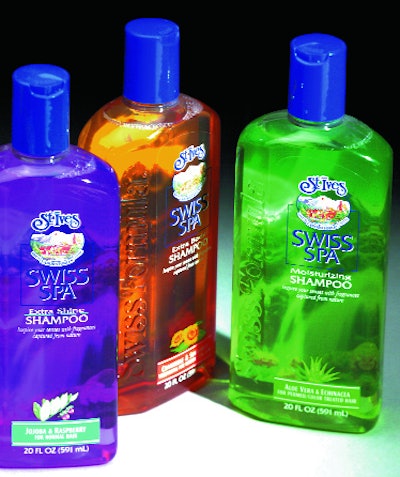 40). The award came in the Multi-Process-Color Process Prime category.
Supplied by CCL Label (Rosemont, IL), the pressure-sensitive label is a two-layer adhesive lamination. A 2-mil white biaxially oriented polypropylene, printed flexo in two colors, carries descriptive back-of-the-bottle copy and a bar code. It's adhesive laminated to a clear 2-mil BOPP that's reverse-printed offset in three colors. This image depicts a dramatic waterfall scene visible through the clear bottle, the clear liquid and the clear front label. The polyvinyl chloride bottle was supplied by Matrix Packaging (Addison, IL). A blue
28-415 PP closure from Seaquist (Mukawonago, WI) tops off the bottle.
The Biondo Group (New York, NY), working with the packaging design and creative services of Alberto-Culver, designed the award-winning label as part of a package redesign for the entire line of St. Ives shampoos and conditioners. "We felt the whole line needed to be freshened up, to be relaunched in new packaging with a new look," says Harold Effinger, senior design manager for Melrose Park, IL-based Alberto-Culver. The 20-oz shampoos and conditioners sell for about $2.90.
Companies in this article