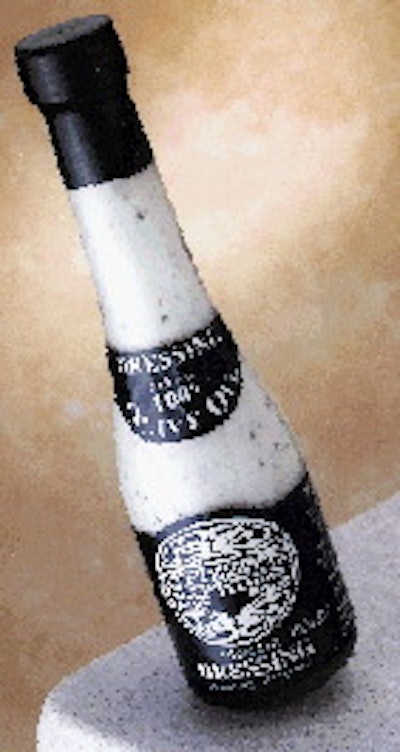 The 200-mL bottles, which replaced the original 195-mL versions (shown), are sold primarily at supermarkets, with a small percentage of bottles sold at the restaurants themselves.
The biodegradable "Viskring" band is supplied by England-based Viscose Closures, distributed in the U.S. under the name "Celons" by Kaufman Container Co. (Cleveland, OH). A Viscose representative defines cellulose as a pulp made from wood. Viscose ships bands to CCL Foods (Earls Colne, Essex, England). Pizza Express sends olive oil to CCL for filling into clear glass bottles. CCL applies the cellulose bands, as well as paper body and shoulder labels, and a 28-mm closure. CCL receives the pre-cut, black-pigmented bands from Viscose in tins containing a solution that keeps the bands wet. A wet band is manually stretched over the top of the bottle. The band takes a couple of hours to dry tightly. Viscose says the dried band is about 75 microns (3 mils) thick.
"We began using the cellulose bands when we introduced the product about 18 months ago," explains John Metcalf, managing director of Pizza Express. "We believe it provides an attractive finish that matches the color of the labels." Metcalf says the decision to use the material, rather than more common band structures, was made primarily for esthetic reasons and on the recommendation of CCL, as opposed to environmental or economic reasons. "The bands work well for us, and we're considering using them for other products in the future," he says.
Companies in this article