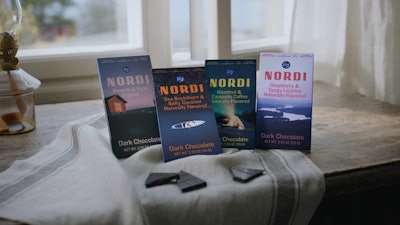 Finland-based confectionary company Fazer is launching a new line of premium chocolate bars in the U.S. under the NORDI brand name. The packaging is made from lightweight premium paperboard from Metsä Board that protects the product, keeps it fresh, and supports the brand's image.
The NORDI chocolate brand is 100% sustainably sourced, using non-GMO ingredients. When sourcing packaging material for its brands, Fazer Confectionery Managing Director Nathalie Ahlstrom says the company is dedicated to decreasing its environmental impact by studying the entire value chain of packaging. "When selecting materials for packaging, we make sure that the raw materials are produced responsibly and are recyclable and/or biodegradable," she says.
MetsäBoard Pro FBB Bright 235g/m2 paperboard used in the NORDI packages is 100% traceable to sustainably-managed Nordic forests with four seedlings planted for each tree harvested. According to Metsä Board, other features include:
· A lighter weightand raw material efficiency, which saves resources and reduces its carbon footprint across the wholechain
· Sensory properties for sensitive premium products, due to the paperboard's pure and strong fresh fibers
· An inner layer made from special, high-yield pulp that provides lightness and bulk and an outer layer constructed of high-brightness pulp for greater visual properties and printability
According to Michael George, Sales Director, Direct Sales, Metsä Board, "The paperboard has high bulk and stiffness/thickness which allows for a lighter basis weight than normal without sacrificing strength properties, thickness, or touch and feel. This lightweighting has a positive impact in reducing CO2 in the whole value chain."
NORDI 3.35-oz chocolate bars are available in four artisanal recipes—Sea Buckthorn & Salty Caramel, Hazelnut & Campsite Coffee, Raspberry & Tangy Licorice, and Smooth & Dark Original—and retail between $3.99 and $4.99 each. They will initially be sold in Fairway Markets in New York before expanding nationally into other grocery and specialty retailers this year.
Companies in this article