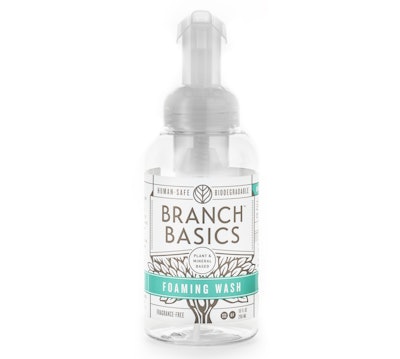 In early 2018, Branch Basics, an e-commerce company selling green cleaning products, found itself in a sticky situation. Bottles for its number-one seller, The Concentrate, were leaking in transit, while the pump for its Foaming Wash bottle was suffering from sticking issues. The company needed to quickly identify the source of the problems and specify new closures that would get its brand back on track. For this, it worked with Berlin Packaging.
In its evaluation of the 33.8-oz concentrate bottle, Berlin found that the closure used a sealing feature that caused the liners to tear, leading to leakage. It suggested a vented, lined closure from Performance Systematix as a fix. In addition, Berlin recommended a stronger, more durable PET bottle from Resilux, with the same shape as the existing package. Explains John Jones, Senior Account Executive at Berlin, "The customer was having issues with labels being wrinkled when applied. The new bottle has an increased gram weight that increases the wall thickness, making it easier to label."
For the Foaming Wash bottle, Berlin determined that the oil in the pump's gasket would run dry, resulting in sticking. The solution was a new spring pump from Albéa that is twice as strong as the previous iteration, but still affixed to the top of the existing bottle, minimizing filling line changes and supply chain disruption, while creating a better overall user experience.
The new packaging launched in Q1-18 and, according to Branch Basics Founder Kelly Love, has caused sales of the company's entire line to triple.
Companies in this article