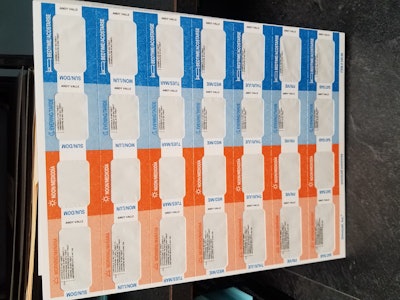 Lori Lewicki, RPh, and Holyoke Health Center Pharmacy Director, explains, "Family members or medical practitioners refer patients to the Med Box program. Often times if a son or daughter can't handle their mom or dad's meds, they can be referred to an HHC medical assistant or nurse because it's difficult for the patient to be compliant when they may be on 15 or 20 daily medications and can't handle them. In order to get on Med Box packaging we make sure that they go through an MTM visit first. We then follow up on a regular basis to make sure they're remaining compliant with their medications through the program."
More than 800 patients are now on the Med Box program. "We're planning to ramp that up because we're doing a study with a senior care option plan called CCA that has 200 of their patients on Med Box. They would like all of their patients on Med Box."
The study aims to determine if participating in the plan will affect medical claims. In other words, does compliance packaging lead to decreased emergency room visits, fewer hospital admissions, etc.
"About two years ago we conducted a pilot study with primary care payment reform initiative (PCPRI) patients with the state of Massachusetts," Lewicki explains. "And while it only involved a very small group of patients, we were able to see that after 240 days on the Med Box plan, we saved over $100,000 to medical claims systems, and that was with only six people. That's why we're doing this larger study with 114 of CCA's who were included in this cohort."
HHC is also combining with other health centers to form an ACO, or accountable care organization for the state. "We are their pilot program. They'll be able to really take a look at how we can save in the medical claims field," she says.
Especially promising, notes Lewicki, "is that my CEO, Jay Berines, wants every patient on a Med Box compliance package. We're also considering its use with local schools and with nearby senior housing projects to help make sure all the seniors have their meds in compliance packaging to start. Jay is really a visionary and sees the value in Med Box. We just increased the size of our pharmacy by 40%, which includes two MTM rooms for clinical services as well as two separate pick-up areas for the compliance packaging because it takes a little longer to counsel those patients on how to use the packaging.
"We've broken these patients off from the regular lines of people waiting for vials. With the expanded space, we installed the Omnicell VBM robot to assist in filling the multimed cards and help expand the number of patients we can add to the program. That is great compared to our manual process in which everything is lovingly packed by hand but only results in packaging scripts for about 30 patients a day," she says. "And that's with two technicians working all day long and two pharmacists in the back checking it and entering the prescriptions. We would be able to really increase volume once we get some automation."
Currently, we have converted about 280 of the 716 patients over to VBM from our Guided Packing system and attempt to change five patients a day to utilize this automation to its fullest potential.
HHC has worked with Omnicell to increase the size of the individual blister cavities (or bubbles as Lewicki refers to them) to accommodate larger-size pills, be they Metformin for diabetes or fish oil capsules. "Omnicell has been very receptive and helpful for us." One such example: Helping to customize package graphics for more illiterate patients.
The companies have worked together now for nearly a decade. In those years, the relationship forged between them helps overcome common challenges, such as when a patient's medication is changed. "Back in the day," she recalls, "that was a pain because we would physically have to go into a blister and carefully remove pills, add the new ones, then retape them, so the packs looked like they had surgery. Now if we need to do 'surgery' on the cards, we can pull up the plastic film over the blister cavities, take out or add medication, then just reseal it by adding a little sticker or label. It was another instance of Omnicell responding to a need we and our patients had."
So while there is a steeper learning curve in educating patients about the new compliance packaging, the blister packs do make it easier for patients to keep on top of multiple scripts. There are fewer bottles to open and close, and an increased likelihood of medication compliance, which leads to improved patient outcomes.
From HHC's perspective, keeping patients in better health is the key objective, but automated medication filling and dispensing also produces labor cost savings because technicians and pharmacists spend less time working on these tasks.
Lewicki also points out that with federal funding equating to about $180,000 per month, "the Med Boxes more than pay for themselves in the long run. Plus, in the ACO (accountable care organization) world, keeping people out of the emergency room or hospital produces shared savings. By putting patients on compliance packaging their diseases remain under better control. Managing patients and keeping them healthy is the incentive behind an ACO."
She also notes that even with robotic prescription filling, HHC will need all the people-power it can get. "There are still certain medications, like HIV drugs, that need to remain in their original bottle until we fill those scripts. No one will lose their jobs. People still have to stock pills and supplies into the robot. We're teaching pharmacists and students that we work with to work more with patients on their treatments, too, and that involves more of a transition of care program to manage health issues."
Read Part I of the story.
Read Part III of the story.