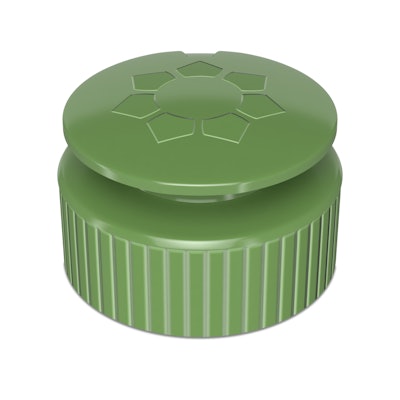 Seventh Generation has earned a reputation as a pioneer in plant-based household and personal care products as well as in the use of breakthrough sustainable packaging materials. Therefore, it was only "natural" that it be the very first to use a 100% recycled-content plastic cap. Topping the bottle for the company's Natural Dish Liquid, the cap was engineered by TricorBraun and is made in large part from recycled polypropylene clothes hangers.
Since its founding, Seventh Generation has pursued ambitious sustainability goals "to create a brighter future for the next seven generations." Where packaging is concerned, it has vowed that by 2020, each component across its wide product portfolio will be virgin petroleum-free and widely recyclable. Since 2015, its liquid dish detergent bottle—along with a number of other liquid-product bottles—has been made from 100% recycled materials. Now the company can boast an equally "green" closure for the product.
"Caps are among the last piece of the packaging portfolio to convert to virgin petroleum-free plastics, and with this announcement, we're happy to report about 85 percent of Seventh Generation packaging components are already there," says Joey Bergstein, CEO of Seventh Generation.
According to TricorBraun Vice President of Commercial Engineering Jon-Paul Genest, plastic bottle caps are often the last to convert for good reason. "There are two main challenges to developing a cap like this using 100 percent-recycled plastics," he says. "The first is identifying and validating a consistent PCR supply chain that will perform comparable to virgin materials. This includes performance attributes such as hinge functionality, impact resistance, and mold-flow consistency to ensure optimal processing/molding, which is important in maintaining critical dimensions.
"The second is achieving marketing and aesthetic attributes. PCR materials traditionally have an inherent odor and typically create challenges when it comes to integrating custom color masterbatches. Identifying a clean and controlled process stream was critical to prevent both." Recycled plastic hangers turned out to provide a clean and consistent supply stream.
TricorBraun and Weener Plastics collaborated on the R&D, mold build, and validation of the new cap at Weener's facility in Weener, Germany; caps are produced by Weener in its North Carolina plant. Bottles of Seventh Generation's Natural Dish Liquid with the new cap were introduced on store shelves in August 2018.
Concludes Bergstein, "This small design change will make a big impact on reducing the footprint of our dish soap, and we hope will also set a new standard for the industry."
Companies in this article