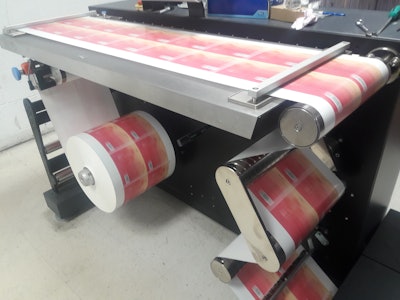 Every brand owner would like to find a packaging supplier that goes beyond selling them a product to one that looks after their interests and is committed to their growth. In the case of Atlanta-based natural hair and skincare products company Eden BodyWorks, it found such a supplier in Overnight Labels.
"Overnight Labels has been a partner from the beginning," says Ylorie Taylor, Vice President of Eden. "They've been able to grow with us and meet the demands of smaller production windows as well as catch 'misses' on our end to avoid negligent costs and errors. We consider them an extension of our creative and production teams."
Eden has unique history. Its founder, Jasmine Lawrence, was just 11 when she concocted her first haircare remedy in an attempt to create a natural product to nurture and restore her then damaged hair. Just two years later, she launched the company, formulating natural products specifically for ethnic hair needs, and enlisted family members and friends to spread the word. It was her guest appearance on The Oprah Show though that brought her to the attention of Walmart, which picked up her product line soon after.
Today, Eden's offerings include 35 full-size products along with a dozen travel-size options, sold in Sally Beauty, Walmart, Target, CVS, Walgreens, Kroger, and other national and local retailers as well as online. Since 2006, Overnight Labels has supplied the company with its bottle labels, and more recently its sample size and flexible packaging, in a partnership that has paid dividends for both the brand owner and supplier.
A partner, not just a printer
Overnight Labels of Deer Park, NY, began in 1987 as a service for thermal transfer-imprinting of barcodes onto blank labels, which at that time was required by manufacturers doing government contract work. Its promise was overnight delivery. Since then, the company has evolved into a full-service label and flexible package printing company. Its equipment includes 10 flexo and two digital presses. All complementary processes, including platemaking, ink mixing, and proof generation, are done in-house as well.
Overnight Labels services a range of consumer markets, including OTC, nutraceutical, beauty, household products, sports nutrition, pet, food and beverage, chemical, and others. According to Customer Service Manager Diane Pannizzo, Overnight Labels is committed to treating every customer the same, whether it's a start-up ordering 250 labels or a national consumer brand ordering 2 million labels.
In 2006, when Lawrence's mother approached Overnight Labels at a trade show, Eden was beyond the start-up stage and had "pretty good distribution numbers," says Pannizzo, but it was still a rather small company. She recalls, "Jasmine's mother came up to me and said, 'I'm not looking for a printer; I'm looking for a partner.'
"Because they were still on the cusp of breaking out, they wanted someone that could support their needs as far as turnaround times and could recommend materials, recommend where cost savings could be had, and support their growth overall."
When Eden brought its business to Overnight Labels, its run lengths were anywhere from 50,000 to 70,000 labels/year. "Now we're doing 2 million," says Pannizzo. "They've expanded quite a bit. And the role we've played in their growth is to always make sure they've had what they need when they needed it, including things like comps of new lines for presentations to retailers."
For Eden's labels, Overnight Labels uses a pressure-sensitive white biaxially oriented polypropylene stock that accommodates "squeezable applications" and those that require moisture resistance. The label graphics, which are described by Taylor as "clean, chic, and simple," are typically printed in four colors plus several spot colors.
While Eden's labels may be simple, there have been times when Overnight Labels has found it a challenge to reproduce some of the graphics on press. Says Pannizzo, "Their Hibiscus line uses five colors and breaks all the 'flexo no-nos.'" Initially Overnight Labels tried flexo-printing the labels. When the colors didn't come out to Overnight Labels' satisfaction, they moved the job to one of their digital printing presses.
"We've never really run up against anything Eden BodyWorks has presented us where we've had to say, 'We can't do this, we have to modify the design.' Instead we'll offer suggestions on how to make the job print better," Pannizzo says.
Recently Eden introduced its Almond Marshmallow line, a limited-edition trio of haircare products that addresses split ends and frizz. For this line, the company switched to a soft-touch laminate film with cold foil application. Explains Taylor, "We wanted it to stand out on shelf since it was a test offering for a specific customer.
"Diane was able to work with us on where the special effects would work best and the types of printing options it would require. She was very involved with the final design application, including sharing and providing examples of our options.
"Overnight Labels understands our brand and its aesthetic, and produces affordable, high-quality labels. They are great with sharing new concepts and helping us ideate on showcasing new product offerings via our label options."
A Cinderella story
In the true spirit of partnership, Overnight Labels has benefitted greatly from its relationship with Eden—beyond "just" being the beneficiary of its continued business. Until five years ago, Eden was using a number of different contract manufacturers to supply its products and was sourcing its own packaging components. For cost-efficiency, it moved its business to a single turnkey contract manufacturer—one with its own preferred label supplier. But Eden went to bat for Overnight Labels.
Recalls Pannizzo, "Eden called me up and said, 'Look, we're moving to a turnkey manufacturer, but I want you to know you have an opportunity to keep all the work.'" It turns out that Eden had told the co-manufacturer in no uncertain terms they wanted Overnight Labels to continue to supply their labels. "It was a big thing for a co-manufacturer to eat; we were kind of shoved down their throat," says Pannizzo. "But here it is, five years later, and we're doing nearly all of this co-packer's label work now.
"Because they were so impressed with us and the job we were doing with Eden, we've now taken over and are doing labels for some of their larger accounts. It's kind of like a Cinderella story—that's not usually how it goes. There is such value in having a relationship with a customer and supporting them, because you always get that back in spades."
Companies in this article