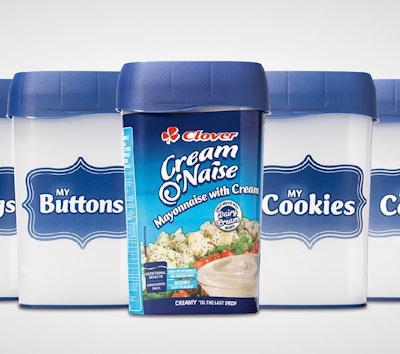 Clover did not just put a new type of mayonnaise on the market with this product — the barrier In-Mold-Labeled packaging also stands out on supermarket shelves thanks to its shape. As an introductory promotion, customers buying Cream O'Naise got one reusable tub as part of a two-pack, giving them a great incentive to start collecting the tubs and keeping them as reusable storage containers. Injection molder Polyoak gave the tub its special shape, while Verstraete IML--part of Multi-Color Corp.—supplied Polyoak with the barrier in-mold label.
Edith Molepo, Senior Brand Manager at Clover, explains how the product launch came about. "Cream O'Naise is the only mayonnaise on the market to include cream, which gives it an extra smooth taste and consistency. With its rectangular shape and large opening, the reusable tub immediately draws customers' eyes to our product on the shelves. It soon became clear that we could only achieve our marketing requirements by using IML packaging--or more specifically, oxygen barrier IML--because mayonnaise should have a shelf life of at least six months as standard."
The Verstraete label includes a layer of EVOH to give it the oxygen barrier it needs. The Oxygen Transmission Rate (OTR) is in the range of 100 times lower than that of a standard IML label. According to Verstraete, the barrier IML not only extends the shelf life of the product, it also helps maintain the best possible taste and aroma.
According to Ettienne Pretorius, Commercial Manager Dairypack Tubs at Polyoak, the key challenge in getting this container to market revolved around making sure the barrier label covered the whole of the tub. "With help from Verstraete IML," he says, "we found the right solution."—Pat Reynolds
Companies in this article