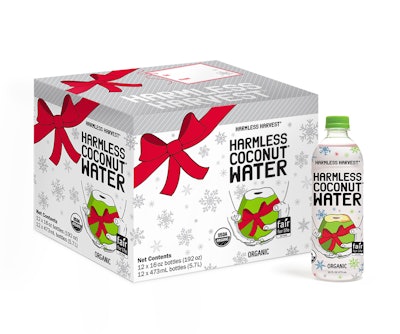 San Francisco-based Harmless Harvest—the first Fair For Life certified organic coconut water producer—has released limited-edition packaging for the holiday season. The festive bottles are decorated with whimsical and bright snowflakes, and a case of 12 bottles is printed with a bow and gift tag, so coconut water fans can give the gift of Harmless Harvest.
"We wanted to bring a bit of holiday spirit to our packaging this year and empower our consumers to make hydration a priority this holiday season," says Harmless Harvest's CEO, Giannella Alvarez. "Coconut water lovers can even share the love with friends and family, knowing that each purchase is supporting the wellbeing of communities across the globe."
Harmless Harvest is an ecosystem-based business that takes conscious steps to ensure the best quality of its products, the welfare of its people, and the health of the planet. Through Harmless Harvest's Fair for Life commitment, it not only commits to paying fair prices for goods like Harmless Harvest's coconut water but goes above and beyond to provide fair wages and assure well-being for everyone in the chain of custody.
Recently the company produced limited-edition packaging that highlighted two of its Thai farmers.