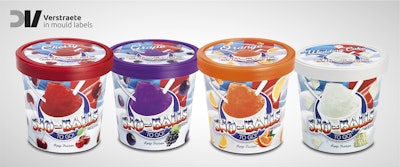 Since 1963, the Lociano family has been serving up refreshing syrup-covered, shaved-ice treats, first from a small stand in New Orleans and now to more than 5,000 stores in 25 states. Its Sno-Balls To-Go product, a grab-and-go, prepacked, 1-pint carton of shaved ice in a variety of flavors, was introduced in 2011. The product was a hit, but its packaging presented problems. Because it did not always close properly, the paperboard carton caused the product to leak or become dry. In addition, the print quality needed improvement.
To find a solution, Sno-Balls contacted plastic packaging supplier Berry, which recommended the use of in-mold labels provided by Verstraete IML. "In-mold labels are extremely resistant to moisture and major temperature fluctuations," explains Peter Paelinck, Business Development Manager for North America at Verstraete IML. "This makes them a perfect label solution for plastic packaging for frozen and refrigerated products. In-mold labels are also highly resistant against scratches, tears, and wrinkles, and the print quality is exceptional. The offset-printing technique guarantees high-resolution images in up to eight colors."
Using Verstrate IML's MockUp IML label service, Berry was able to present Sno-Balls with a variety of label options. With MockUp IML, Verstraete IML produces digitally printed IML labels at its site in Maldegam, Belgium, at a low cost and with a short lead time. The service allows clients to evaluate a number of realistic samples before choosing their favorite look and feel. "Brand owner Sno-Balls was immediately convinced and made the switch to IML and a contrasting combination of Matte IML and UltraGloss IML," says Verstrate IML.
The IML label for Sno-Balls' new 1-pint polypropylene carton is a PP film printed in four colors plus a matte lacquer and high-gloss lacquer. The new carton was introduced in the beginning of 2017 with 14 updated designs and three new flavors.
Says Chris Cuadrado, Managing Partner at Sno-Balls, "The feedback from customers has been fantastic. The new IML packaging looks amazing."
Companies in this article