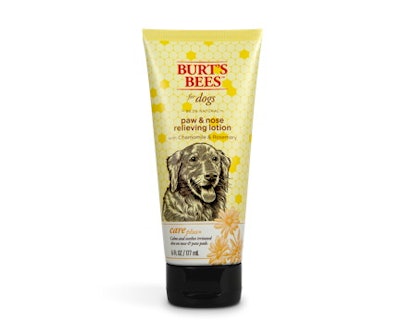 A laminated tube for new Burt's Bees for Dogs Paw & Nose Relieving Lotion is being included in the Association of Plastic Recyclers Recycling Showcase at the APR meeting, March 6 to 8, 2017, held in conjunction with the Plastics Recycling Conference in New Orleans.
The tube, from Berry Plastics, is constructed from 60% post-consumer recycled material. According to Berry "most tubes in the market today contain zero percent post-consumer recycled material." Berry adds that the tube was constructed of a proprietary combination of material layers that create the same bounce back, shape recovery, and burst strength as the company's non-PCR tubes. A vertically integrated tube manufacturer, Berry makes its own laminate sheet, so it can control the amount of PCR used in each layer of the sheet.
While the tube supplier had previously offered PCR tubes, it has been able to increase the maximum PCR percentage by more than five times with this new material blend, and—with the Burt's Bee's tube—it has added PCR to the shoulder for the first time. The Burt's Bees for Dogs tube was introduced to store shelves in early 2017, adding to Burt's Bees' already extensive portfolio of packaging containing recycled material.
Companies in this article