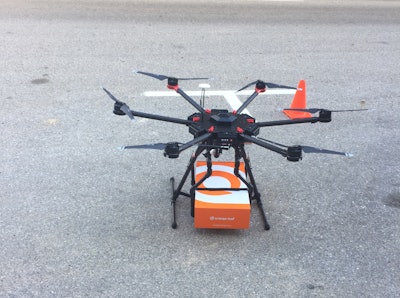 Students at Hope College in Holland, MI, were recently treated to Orange Leaf Frozen Yogurt delivered by drone. In a test-pilot program titled "Project Flying Orange Unicorn," Orange Leaf's Holland franchisee sent 30 cups of froyo six blocks through the air from its store to the campus via a manned Matrice 600 Hexacopter drone from Chinese-based DJI.
"Orange Leaf is continually looking for good ideas from its franchisees and loves to bring new ideas to market from our dedicated employees and franchise partners," says Karen Porter, Vice President of Marketing, Orange Leaf Frozen Yogurt. "In summer 2016, drone delivery was suggested by franchisee Jeremy Latchaw, who is also president of a Holland, Michigan, drone dealership and unmanned vehicle consulting service called Mishigami Group."
Latchaw, who also owns another Orange Leaf store in Grandville, MI, says the Matrice 600 can carry up to 30 lb and features a 5-ft wingspan and six propellers—"perfect for Orange Leaf's froyo delivery," he says. In accordance with FAA guidelines, the drone cannot fly higher than 400 ft or more than 20 mph. The drone also has return-to-base technology, where if the pilot loses communication with the drone, it will return to the place it took off from. "Furthermore, current restrictions require pilots to maintain line of sight of the aircraft, unless they have a waiver from the FAA," Latchaw says.
To package the froyo for delivery by drone, Orange Leaf used its Pop-Up-Party box—created for 12, 25, or 50 cups of frozen yogurt for events—with some modifications. The drone delivery box holds 30 cups of froyo and toppings. "We hard-freeze the frozen yogurt and cover it with an ice blanket for delivery," explains Latchaw. "The packaging system fits perfectly under the drone with a modified rack and securing system."
One of the initial challenges of the delivery system was unfavorable weather conditions; the drone cannot fly when it is too windy, rainy, or snowy. To address this, Orange Leaf has developed a risk matrix protocol for drone flight planning to determine when to fly or not, based on weather conditions and other factors.
Currently, Hope College students and administrators can order frozen yogurt delivery by drone by appointment only. Once the customer's order is taken by phone and the appointment is made, the Holland franchisee sets up the drone at the store and works with the pilot to make the delivery in accordance with FAA guidelines. Says Porter, "As further testing proceeds, we hope to expand the program beyond the campus.
"While special event-specific deliveries appear to be pretty straightforward and a great guest engagement tool, door-to-door deliveries may not be entirely practical due to delivery costs. But that is why we are continuing to test and refine risk factors."
Lotchaw believes that drone delivery is here to stay, becoming more prevalent as drones become safer and more accepted. "The technology is improving, costs are coming down, and several major companies like Amazon and Dominos also see drone delivery in the future as an efficient way to deliver goods to customers.
"We continue to test distances and flight times to refine the business model and better understand the future role drones may play in our delivery business. This will allow us to be on the cutting edge of technology with our catering service as regulations change."