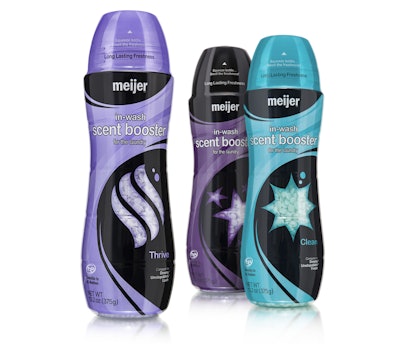 Why would you buy a perfume if you couldn't smell the fragrance first? Likewise, why would you buy a scent booster for your laundry if you weren't sure you'd like the scent? That's the issue private-label products company Value Smart Products, Suwanee, GA, sought to address with a new package design for its eight-fragrance in-wash scent booster line.
VSP markets a wide variety of consumer products in major national retail stores. Its primary focus is on private-label laundry and dish detergent and additive products. For its scent booster line, the product was using a three-piece package consisting of the bottle, a flip-top closure, and an overcap for measuring/dosing. "The overcap suffered from several problems," explains VSP President Drew Harrison. "It was difficult to remove, didn't match aesthetically, and was not the correct diameter to snap over the flapper cap."
The biggest disadvantage of the package, however, was that it didn't allow consumers to smell the fragrance of the booster before buying, leading them to break into the container to do so. "After disassembling the package, many shoppers would not reassemble it, making the product unsalable," Harrison says.
To solve the challenge, VSP turned to Berlin Packaging and its Studio One Eleven design team in Q4-2014. In addition addressing the sampling issues, VSP also wanted a package that was appropriate for category needs, but was different from national competitors. It also wanted a closure that could fit both a 9.7- and a 13.2-oz bottle while maintaining a seamless overall design.
Berlin recommended replacing the stock flip-top overcap with a threaded polypropylene dosage cup that incorporates an orifice with two very small pinholes that allows the scent to be dispersed outside the bottle. The overcap allows shoppers to test the fragrance with a gentle squeeze of the ribbed PET bottle, without opening the container. And while the orifice allows the scent to escape, at the same time it prevents moisture from entering the package and spoiling the product.
For additional functionality, the flip-top assembly features a smaller overcap that enables consumers to more easily pour and measure the booster. The removable cap also gives users greater convenience in pouring product into high-efficiency, front-loading washing machines.
Since the new package made its debut in August 2015, several retail chains have taken on the product, including Meijer. Says Harrison, "Berlin Packaging's improvements have dramatically raised the performance of Value Smart's scent booster at retail and in the home."
Companies in this article