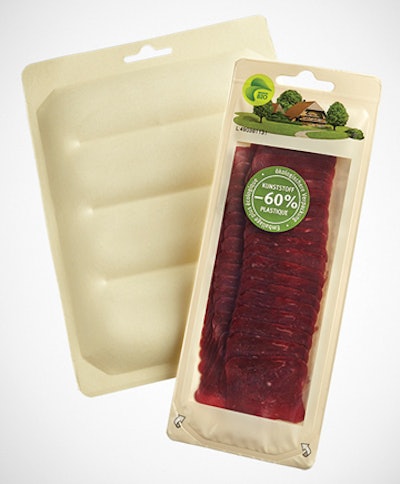 A newly developed thermoformable paper-based package is making its way to consumers in Switzerland through the Migros chain of supermarkets.
Called PaperLite, it was developed and commercialized by Sweden's Flextrus. The meat producer using it for the Migros packs is Micarna, Switzerland's leading meat producer. Beginning with one tray format in late 2013, Micarna now offers seven varieties of refrigerated sliced meat products in PaperLite trays.
According to Flextrus, PaperLite is an FSC-certified paper-based forming web that is a "green" alternative to the plastic materials used so widely in the chilled food category. Flextrus makes PaperLite by coating a special thermoformable grade of paper called FibreForm that comes from BillerudKorsnas, also a Swedish firm. The coextrusion coating is PE/tie/EVOH/tie/PE. Flextrus claims that in addition to the sustainability benefits derived from the fact that the paper used in PaperLite is from FSC-certified sustainably managed forests, PaperLite can be recyclable depending on local regulations since the barrier represents just 14 to 15% of the package weight. Another key part of its value proposition is that it meets the growing consumer demand for premium product packaging that features great graphics and the unique tactile quality of paper.
Micarna says that consumers responded "very positively" to the packaging. Encouraged by this reaction, the firm expanded its use of PaperLite trays in 2014. "Customers' positive attitude towards paperboard, the look and feel of the package, the easy-peel tab for removing the film, and the lower risk of injury on a sharp edge are key factors," says a Micarna spokesperson. "Migros has long expressed a desire for a paper-based thermoform with a peel-back lid. Micarna has in the past run many tests using various materials. By opting for this material, Micarna is now able to present a solution that meets all requirements."
The change in the tray's material is not visible to consumers at first glance, so a green sticker is applied on the front of the packaging to advertise the 60% reduction in plastic content. Also shown is the FSC logo, which is highlighted on the label.
The PaperLite packages are formed and filled at Micarna's plant in Courtepin, Switzerland. "It was important that we start with an existing thermoformer to keep revenue risk to a minimum," says Micarna. Some modification to the thermoformer was required. Maximum depth of draw on the packs, which are evacuated and backflushed with a modified atmosphere to extend shelf life, is 12 mm.
Micarna chooses not to identify the lidding material used on the peggable package. As for secondary packaging, the trays are loaded by hand into reusable containers used for distribution through Migros supply chain. Refrigerated shelf life is anywhere from 28 to 40 days, depending on the product.
Companies in this article