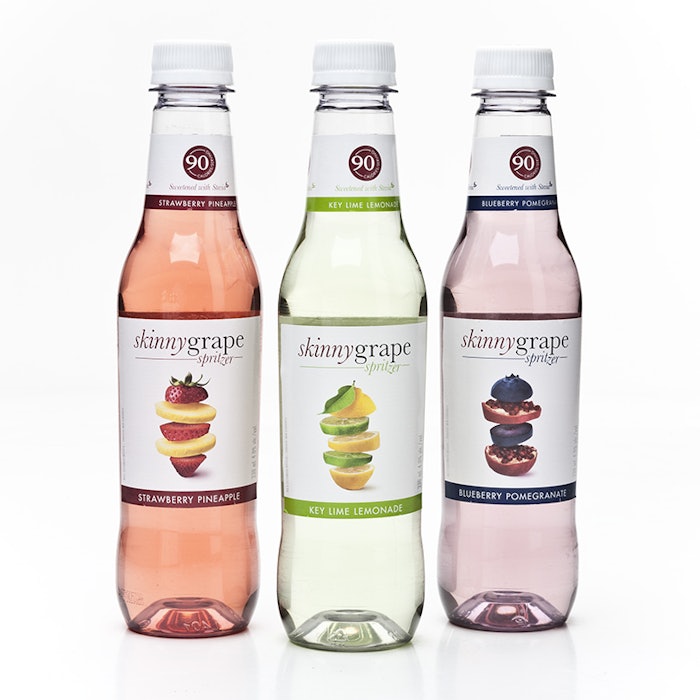 The ready-to-drink (RTD) premium PET container, supplied by Amcor, delivers convenience and portability due to its light weight and shatter-resistant characteristics, enabling this spritzer brand to be enjoyed at backyard barbecues, picnics, swimming pools, beaches, and other outdoor licensed venues.
skinnygrape, previously only available as a low-calorie wine in a 750-mL glass bottle, is a naturally-flavored wine-based cocktail that has only 90 calories/bottle. Consumer response has been strong for this low-calorie spritzer which uses stevia, a natural sugar substitute. Thehighly attractive, custom PET container with eye-catching graphics differentiatesskinnygrape from other products in this highly competitive RTD category, according to Sarah Ripley, National Brand Manager for Andrew Peller. "The slender bottle is extremely comfortable to hold," says Ripley. "Our consumers are mostly women and this bottle sits comfortably in their hand. We think the packaging is really fun and speaks to what our brand represents; and we believe our product offers consumers low calories without compromising on taste. From a consumer perspective, it boils down to brand, packaging, and taste."
Along with unique design capabilities, shatter resistant and portable PET bottles with a twist-off plastic cap provide an entry into new venues that do not allow glass because of the potential for breakage, opening up new sales opportunities. "The great thing about PET is that it travels well for summer weekends," said Ripley.
Another key feature is a unique barrier coating technology developed by Germany's KHS Plasmax GmbH, which provides extended shelf life. The 330-mL PET bottle features KHS Plasmax's Silicon Oxide (SiOx) barrier coating, which seals the container from the inside to protect the contents from oxidation and helps retain carbonation. Plasmax is an FDA and Canadian compliant passive barrier technology providing extended shelf life. This ultrathin (less than 100nm) material is transparent and resistant to cracking, abrasion, and delamination. Moreover, it doesn't degrade over time or have an activation time constraint nor limit the storage time forempty bottles. The barrier coating is easily removed during the recycling process without any contamination to the recycling system, says Amcor.
Andrew Peller also realizes key sustainability benefits with single-serve PET bottles. They are one-sixth the weight of glass bottles, have a low carbon footprint, and 100% recyclable with a #1 code. The plastic bottles also result in significantly reduced transportation costs and other supply chain efficiencies.
Amcor's "cradle to grave" development process played a key role in a speedy product introduction. From design concept development to unit mold sampling and third party filling assistance, Amcor was able to help with a successful product launch. "Our new product launch was highly successful because Amcor brought us a full range of design concepts and followed the project from development to execution with a high attention to detail," says Ripley. "Their technical expertise and market knowledge helped to quickly take the design from concept to store shelf."
skinnygrapespritzers are available in four-packs in Key Lime Lemonade and Blueberry Pomegranate flavors in Liquor Control Board of Ontario (LCBO) and NSLC (Nova Scotia) stores and The Wine Shop (100 stores in Ontario). The Wine Shop also carries an exclusiveflavor, Strawberry Pineapple. Andrew Peller Limited is currently developing other flavors and expects to launch them late spring 2015.
Companies in this article