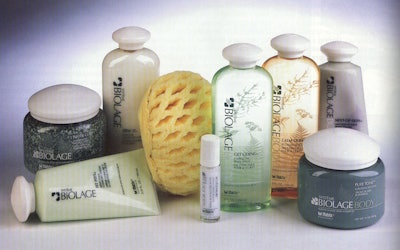 It won the Bernard M. Seid Best of Show award in the annual competition of the National Association of Container Distributors. The products themselves were formulated to have eye-catching colors, so Matrix chose crystal clear PET bottles and wide-mouth jars to display it.
A clearly visible bright product color was considered quite unique to products sold through salons at the time. Many products were sold in opaque white or black bottles. "Our research showed that interesting colors would attract women to the package," said Matrix Essentials at the time.
Also notable is the tight timetable on which the containers were developed. The product line concept originated in January 1993. Less than five months later, Matrix Essentials was filling into finished decorated containers.