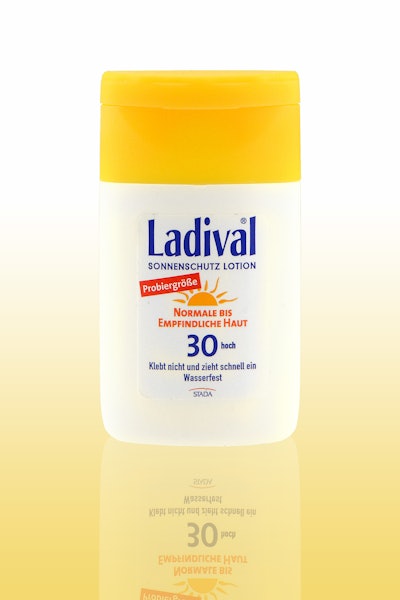 Ladival sun protection products are now also available in a 30-mL bottle, developed by RPC Kutenholz In collaboration with Stada GmbH of Bad Vilbel, Germany, as a handy size for travelers.
Stada is an international company focusing on healthcare, especially pharmaceuticals and generics. According to Stada's website, "Our major therapeutic areas for generics include stomach medicines, antihypertensive agents and anti-inflammatory agents. In the area of branded products, important products include the cold medicine Grippostad, the Parkinson's disease medication ApoGo®, and the suncream Ladival.
RPC Kutenholz has been producing the 200-mL bottles for Ladival for many years. The design for the new 30-mL size was created by RPC Design. Thanks to the detailed specifications, RPC Kutenholz was able to develop and produce the bottle quickly, enabling Stada to bring the product to market for the summer. Rising sales figures already show the popularity of the small travel pack, which is extrusion/blow-molded from high-density polyethylene (HDPE).
Ladival has always avoided the use of unnecessary ingredients, to set new standards in sun protection. Ladival products are free from colorings and fragrances, and contain no mineral or silicone oils, PEG emulsifiers or parabens. Ladival products are available from pharmacies.
The company's top five markets are Germany, Russia, Italy, Belgium, and Spain. Stada has production facilities in Germany, Russia, Serbia, Bosnia-Herzegovina, Montenegro, and Vietnam.
Companies in this article