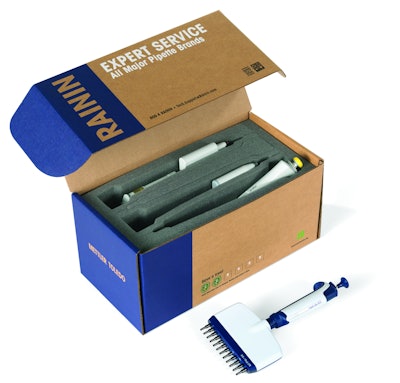 Pipette provider Rainin Instrument has launched a new program—One Tree Planted—to encourage its customers to reuse the heavy-duty paperboard return kits it sends to those who request mail-in service for their pipettes. Working in partnership with American Forests, each time a customer reuses one of the company's pipette return kits, Rainin will plant a tree.
A subsidiary of Mettler Toledo, Rainin is the largest manufacturer and service provider of pipettes in the world, servicing more than 230,000 pipettes each year in the U.S. alone. Its pipette products are used by customers that include pharmaceutical, biotech, academic, forensics, and industrial/chemical organizations, for a range of liquid handling applications.
The company's service return kits, configured with polyurethane cut-outs to hold pipettes securely inside, are sent to customers overnight and are then used to ship pipettes back to Rainin for service—a method that accounts for more than 90% of the company's in-house service orders.
In 2012, the boxes were redesigned to accommodate larger pipettes. "We saw however an opportunity to make other improvements, such as the amount of recyclable materials used," says Savio Gadelha, Global Service Marketing Manager, Rainin. "We also looked for materials, such as cardboard and plastic, that are recyclable. And, we had to consider business factors such as box durability and its ability to retain its character after being reused multiple times."
The resulting package uses 40% post-consumer fiber for the outer box. PUR was chosen for the inserts because the material can be repurposed after use. "When it wears out or is damaged, we work with a local vendor that hauls it away, regrinds it, and uses it as a component in carpet padding," Gadelha explains.
The One Tree Planted program was inspired by two goals, Gadelha relates: "First, to support our corporate goals for sustainability, and second, to reduce the cost of our service boxes."
Using a new service management system, Rainin can electronically record when a reused kit is received and reports this information to American Forests each month. As kits are received at the company's service centers, a technician notes the reused box in the customer's service order, then stamps the side of the box to physically record how many times it has been reused. The boxes can be reused as many as six times, but are taken out of circulation sooner if there are any rips or dents in the package. "Pipettes are precision instruments, and we go to great lengths to make sure they are well cared-for," says Ana Paula Fernandes, Head of Sales for Rainin in the U.S.
Gadelha says that Rainin chose American Forests as a partner due to their "sterling reputation" for effectiveness and efficiency. "The One Tree Planted program fits because it includes a tangible benefit to our customers and is something that is quick to explain and easily understood," he adds. "Planting a tree every time a box is reused is as simple as it gets."
Rainin rolled out the program in February 2013 and says it expects to reduce its cardboard and foam usage by at least 50% in year one. The company has also made a commitment to American Forests for a minimum of 5,000 trees to be planted this year—a commitment Gadelha says Rainin hopes to exceed.