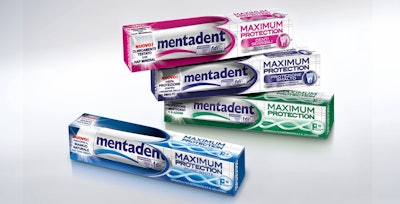 Designed by Milan-based studio Reverse Innovation, Unilever's Mentadent Maximum
Protection toothpaste range now appears on the shelves with a graphic restyling and the addition of two new clinical/specialist varieties, making a total of four latest-generation products aimed at achieving complete oral hygiene.
Packaging consists of a printed outer PET pack that enables consumers to see an inner tube made in laminated silver. The tube contains 75 mL of toothpaste. Suppliers and packaging material details were considered proprietary for the package, which is distributed in Italy. Unilever did not comment on the packaging at press time.
Each product is characterized by a distinctive color-coding as well as a clear graphic and structural architecture that communicates the features of the properties of each of the variants. The design emphasizes the intrinsic clinical/scientific character of the products and aims to achieve high-impact and improved brand recognition for the toothpaste.
Mentadent Maximum Protection toothpastes are inspired by the action of flossing and mouthwash. In addition to the restyling of the two core versions—Maximum Protection and Maximum Protection Pure White—the two new offerings are Enamel Protection and Sensitive Teeth.

Companies in this article