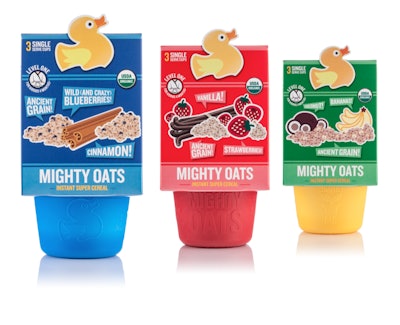 Like children's building blocks in vibrant primary colors of green, blue, and red, the square paperboard cartons for new Mighty Oats instant cereal for kids contain compostable serving cups and a plantable inner carton liner that speak to the environmental consciousness of parent company Little Duck Organics. Introducing its Tiny Fruits 100% fruit snacks "for kiddos 1 year+" (according to on-pack copy) in 2010, Brooklyn-based Little Duck launched three varieties of Mighty Oats in March 2013 in Whole Foods Market as part of its goal to grow as an organic children's snack and cereal brand.
Aimed at kids aged four months old and up, Mighty Oats varieties are made from ancient grains, fruits, and spices, like cinnamon and vanilla, and contain no added salts, sugars, colors, or preservatives. The instant oats can be made on the go, by adding warm milk or water to the single-serve cup and waiting 60 seconds. "For Mighty Oats, we prioritized convenience when it came to the packaging, since there weren't very many options for on-the-go parents when it came to baby cereal; everything was packaged in larger containers," explains Little Duck director of communications Gillian S. Grefé.
"With that said," she continues, "it seemed wasteful to have each single-serve cup be thrown out, so we decided to make the cup compostable." The 3-in.-wide x 2-in.-deep cup is made from what Grefé describes as a coconut shell powder/corn blend, "a plant starch-based plastic resin with a coconut shell powder inclusion for improved rigidity," from a proprietary supplier.
The material construction of the cup was chosen to provide an adequate moisture and vapor barrier for the cereal product stored inside, while being durable enough to hold up through filling and distribution. The cup is certified under ASTM-6400 as being compostable in municipal and industrial aerobic composting facilities.
Depending on the cereal variety, the cup is colored yellow, blue, or red, and is embossed with a number of icons and copy. Among them, the Little Duck icon, the Mighty Oats logo, and a potted plant icon surrounded by the words, "Compost Me." On the bottom of the cup, copy reads, "In another life, I'll be a cucumber."
"We tried to squeeze in as many fun, creative design elements to each of our products as possible," says Grefé. The product carton holds two single-serve cups, while a third cup sticks out through a round die-cut hole in the bottom of the box. Each cup is sealed with a laminated PET lidding film, which Grefé says Little Duck is hoping to replace with a recyclable material.
The boxes themselves contain an added surprise for kids: a plantable insert that yields tomatoes, carrots, or lettuce. "We wanted to take eco-packaging to a whole new level," says Grefé, "making a product with as little waste as possible that also offered kids an engaging and educational hands-on project." Visible through a vegetable-shaped die-cut on the back of the box, the insert is made from recycled newsprint and is embedded with organic seeds by a proprietary supplier especially for Little Duck.
The outer carton offers a design by Little Duck CEO and founder Zak Normandin, who opted for illustrations depicting each ingredient in the product, such as vanilla, strawberries, and ancient grain, for Strawberry & Vanilla. "This was another way of us saying in a way even children could understand, 'This product contains simple, delicious, good-for-you ingredients,'" says Grefé.
The Little Duck icon—a cartoon-like, bright yellow duck—takes the place of the company name on the package and is positioned at the top of the carton, die-cut so that its head rises above the top of the package.
Grefé relays that both product and package have been very well received so far. "Consumers are most excited about the clean ingredient deck and the organic and non-GMO certifications," she says. "The eco-friendly packaging and the convenience factor is an add-on for them."
Mighty Oats products are currently offered in Whole Foods Market and will be launched in 6,000 other retail locations nationwide beginning in June. The three-counts packs have a suggested retail price of $6.26 apiece.