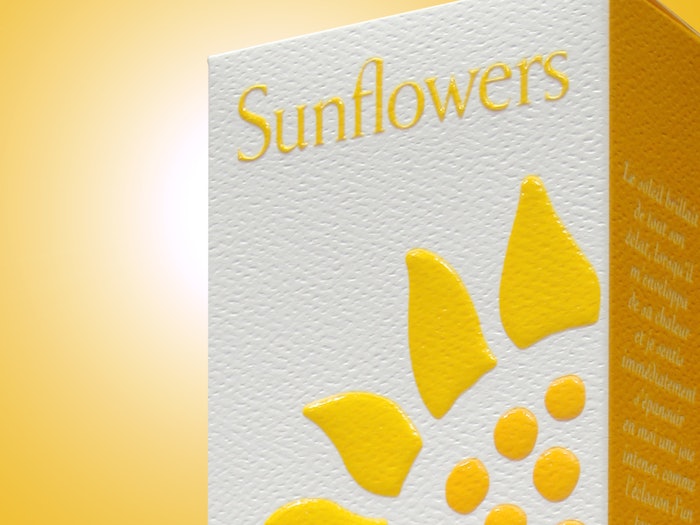 As luminous and fresh as the fruity notes of lemon, rosewood, orange blossom, mandarin, bergamot, melon, and sweet peach used in Elizabeth Arden's Sunflowers Eau De Toilette Spray Naturel are new carton graphics for the brand, skillfully converted by Diamond Packaging of Rochester, NY. Switching from a carton primarily printed in a golden yellow hue, with a white sunflower graphic, the new carton employs a mostly white background, with a stylized sunflower depicted in yellow on the front and back, with a deeper yellow shade used for the side panels.
The carton, constructed of Neenah Paper's 18-pt Royal Sundance Ultra White Felt textured paperboard, is offset-printed by Diamond in three PMS colors plus black, with UV matte and UV gloss spot coatings applied in-line. The UV gloss is applied to the brand name and sunflower graphic on the front panel of the carton. Graphics are further enhanced with embossed sunflower petals on the front and rear panels and with debossed text on the side panels. Says Diamond's director of marketing, Dennis Bacchetta, "This contributes to a unique visual and tactile presentation that stands out in the crowded retail environment." 
Bachetta adds that one of the challenges presented by the premium carton design is maintaining the very subtle shade difference between the yellow used for the background and the yellow used for the flower. "Also, the design requires extremely tight registration of the embossed and debossed areas," he adds.
To meet these challenges, Diamond keeps tight color control using closed-loop spectrophotometry and optimizes production layouts to best support the registration requirements. Cartons are converted using a Heidelberg Speedmaster XL 105 offset press, a Bobst BMA hot-foil stamper/embosser, a Bobst 102 CER die-cutter/blanker/stripper, and a Bobst 90 Matic gluer.
In fall 2012, Diamond was awarded first place in the Folding Cartons – Offset Category for the Sunflowers carton in the 26th annual packagePRINTING Excellence Awards Competition. 
Companies in this article