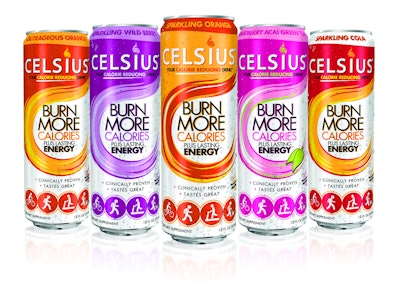 In the energy/weight loss/fitness beverage categories, package graphics tend toward the dark side. To differentiate its Celsius-brand drinks, Boca Raton, FL-based Celsius Holdings, Inc. is rolling out brighter-colored, upscale packaging—and introducing a single 12-oz can in addition to the four-pack varieties already on the market. Aluminum cans are supplied by Rexam, with aluminum lids from Ball.
Celsius CEO Gerry David says, "New package design is very important to Celsius, because it clearly positions Celsius as a premium, credible brand that resonates with Celsius' target consumer. The primary, differentiating messages—burn more calories and lasting energy—are prominently featured in a clean, fresh design."
Sold in five flavors, three carbonated and two non-carbonated, the sugar-free, vitamin-enhanced drinks aim to help health-conscious consumers stay fit by burning calories, raising metabolism, and providing lasting energy before, during, and after an exercise regimen, be it walking the dog or working out at the gym. The beverages include a scientifically validated MetaPlus® formula with no sugar, no artificial preservatives, flavors, or colors, and no high fructose corn syrup or aspartame. The beverages are low in sodium and contain 10 calories per serving. They are vitamin-enriched and include green tea with EGCG, ginger, calcium, chromium, B vitamins, and vitamin C.
"The move from the 4-pack on retail shelves to single cans is being implemented nationwide, which we believe will provide a lower entry price point for the consumer to try the brand and will also reduce the company's costs," says David. Single cans retail for $1.99, with four-packs priced at $7.49. Shelf life is 15 months for carbonated versions, 18 months for noncarbonated offerings.
David explains, "The new upscale packaging will be introduced into our distribution system in November. The new packaging design focuses on 'Burn More Calories Plus Lasting Energy' message on the front of the can. The new packaging was greeted with extremely positive reviews by both retail category managers and consumer focus groups."