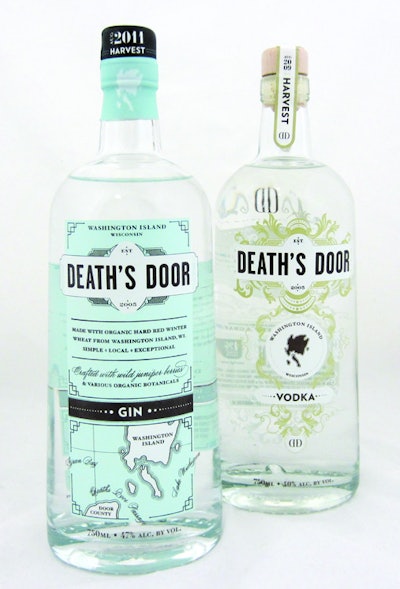 Death's Door Spirits, Middleton, WI, handcrafts gin, vodka, and white whisky in small batches, using local ingredients. The distillery's name is inspired by the legendary Death's Door passageway between Washington Island and the Door County Peninsula in Lake Michigan.
To further distinguish its regional brand, Death's Door wanted to revamp the packaging. The company had been using standard stock glass bottles and paper labels. This presentation was not making the products "pop" on the shelves. So the distiller turned to world-renowned glass packaging specialist Saint-Gobain for advice.
Brian Ellison, president of Death's Door, says, "Working with Saint-Gobain, we were able to find a high-quality line of stock bottles with unique shapes that were not being utilized by any domestic (U.S.) spirits companies."
The Selective Line, a new international glass container brand from Saint-Gobain, is called "Verallia." As part of its Selective Line initiative, Verallia/Saint-Gobain operates a state-of-the-art creation, innovation, and printing center, Creativ'Lab, in Pont Sainte Maxence, France, that brings together experts in glass-making and premium decoration techniques.
The distiller then worked with Grip Design from Chicago to develop custom screen-printed graphics for the new bottles. With the preprinted bottle graphics, Death's Door eliminates the need for on-line label application operations, thus speeding up line productivity and averting downtime that would accrue in the event of any label placement problems.
The project also included implementation of real cork stoppers from Amorim and custom shrink film neck capsules from Lafitte Cork & Capsule, Inc. An Accutek APOF6 in-line filler from Biner Ellison fills the 750- and 700-mL (European market) bottles. Currently, the 1.75-L bottles are being manually filled, using free-standing 6-head bottle filling equipment from Mori. And the distiller also is planning to add a manually filled 3-L bottle size this Fall.
For all bottle sizes, the cork stoppers are manually inserted, and the neck capsules are manually applied before the bottles are run through a shrink tunnel to create a tightly snug fit of the capsules to the bottle necks.
Death's Door is very pleased with the new packaging for its gin, vodka, and whisky. Notes Ellison, "To be a super-premium product made with local ingredients and steeped in geography and tradition of place can get people to buy the product. But to continually build on that brand loyalty, we wanted to adopt more distinctive packaging. Local sells once. Exceptional sells always.
"The new packaging has helped us quadruple our sales and given us a foundation for continued strong growth. Anecdotally, our customers routinely have told us: 'I used to love your product, but I hated your package. Now I love both the product and the packaging.'
Companies in this article