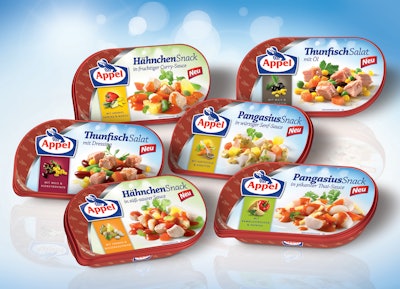 Appel Feinkost GmbH & Co. KG, of Cuxhaven, Germany, produces the Appel Gourmet Seafood line in six non-refrigerated salad and snack varieties. In July 2011, the company began marketing this new line of products in PermaSafe® retortable tubs supplied by the plastics division of the Weidenhammer Packaging Group (www.weidenhammer.de). The 200-g packages also incorporate embossed in-mold labeling (IML), an easy-open, peel-off membrane seal, and an injection-molded, recloseable, IML lid.

Impermeable to oxygen and water vapor, these heat-tolerant barrier containers are designed for steam or hot water sterilization and pasteurization applications traditionally associated with metal- and glass-packed shelf-stable foods. They are made from 100% plastic. Specific plastic material structure was not disclosed, but the trays are said to incorporate polypropylene. Sidewall thickness is 0.7 mm, empty container weight is 15 g, and container depth is 26 mm. Seal membrane structure is a lamination of PET film/aluminum foil/PP film.

The fish and other chunk and particulate components are filled into the trays by hand. Then the sauce is filled automatically and the laminated lidding material is applied. Appel then cooks the packaged Gourmet Seafood products in retort kettles at temperatures in the range of 121º C (250º F).

The containers, membrane seals, and in-mold labels withstand the cooking process without damage. After cooking, the recloseable lids are automatically applied and secured with adhesive tape bearing the best-used-before date. Non-refrigerated shelf life is twelve months.

Technicians from Appel and Weidenhammer worked closely on the development of this packaging. Key challenges included precise positioning of the long, narrow side label in the mold and on the tub and dealing with shrinkage of the container during the sterilization process to ensure the lid fit properly. Before the machine tools were made, a pilot mold was constructed so that Appel and Weidenhammer could be certain that the entire process would run smoothly.

The Appel application is the second successful launch of the PermaSafe packaging technology. The first commercial application (without IML) was for the packaging of Heideverfuhrung specialty sausage produced by Muller's Hausmacher Wurst, Ebstorf, Germany, introduced in late 2009.
Companies in this article