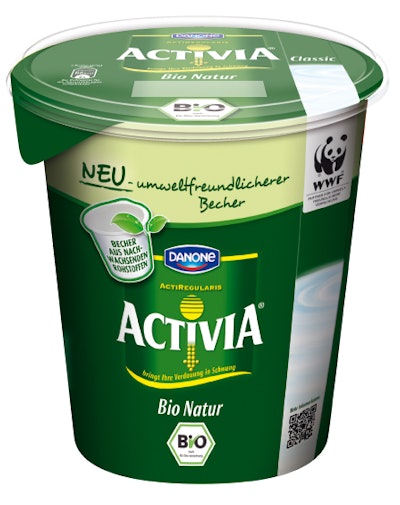 "Going forward, it is increasingly important for companies and brands to realize that the path ahead is one of technological investment, sustainable development, and high quality in all aspects of product production—packaging included," says Andreas Ostermayr, CEO Danone Germany and Switzerland. "With our partners, we have taken a first significant step in the packaging development of the future."
In terms of the aggregate annual environmental benefit associated with the Activia pack switch, NatureWorks estimates fossil energy savings equivalent to the electricity consumed per month by 13,000 German homes, along with greenhouse gas savings equivalent to not driving a vehicle 19 million km.
With the choice of Ingeo, NatureWorks says that Danone addressed three product elements in its development of the Activia yogurt pack. First, Activia, which is a product designed to improve digestive comfort, was previously packaged in polystyrene. The new packaging needed to combine high performance and quality with the sustainable standards of today and tomorrow, and the entire process needed to be more environmentally friendly and sustainable, with no compromise on quality or performance for the end consumer. Additionally, NatureWorks is working with the industry to realize a wholly new end-of-life option for the Ingeo-based cup to guarantee the lowest environmental impact from sourcing use, disposal, recovery, and re-use.
Danone notes that the change represents about 80% of the total volume of all Activia products in Germany, and that moving forward, it plans to expand the use of the Ingeo-based packaging to include the other products in the Activia line (drinks, yogurt fruit puree, and the larger consumer formats) that account for the remaining 20 percent.
Companies in this article