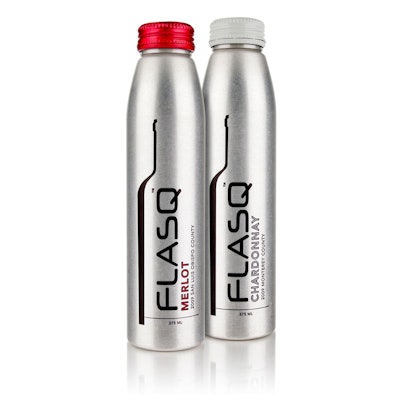 With "convenient" and "green" top of mind, St. Helena, CA-based JT Wines is the first in the U.S. to launch its wine brand in a shatterproof, quick-chilling aluminum bottle. FLASQ Wines, in 2009 Chardonnay and 2009 Merlot varieties, were launched in January in sleek 375-mL resealable aluminum bottles from Exal.
According to JT Wines spokesperson Beth Ridenour, the brand was developed to meet the convenience needs of wine enthusiasts who lead active lifestyles. "Most times glass isn't permitted by a pool, and a lot of times, if you are at a ballgame, or a concert, or another venue, there is not a great list of wines readily available to you," she says.
Providing convenience and quality, the aluminum bottle is shatterproof, is said to chill up to five times faster and stay cooler longer than a glass bottle, and is coated inside with a liner that prevents the wine from coming in contact with the bottle. A wide-mouth opening allows for additional aeration during consumption, and a screw-on cap enables resealability. Each 375-mL bottle offers the equivalent of two servings—"a nice way to either share or just enjoy the wine without having to get up and down while you are at an event," says Ridenhour.
From a sustainability aspect, the 99.7% aluminum bottle and cap are fully recyclable and are lighter in weight than glass bottles. According to JT Wines, this results in a 35% smaller carbon footprint due to a lighter shipping case weight.
FLASQ Wines are bottled at The Ranch Winery, also in St. Helena, a custom crush facility in which JT Wines is a partner. Says Ridenhour, new packaging equipment was required to accommodate the slim, bullet-shaped bottles and screw-on closures, which are a stock shape for Exal.
Packaging graphics were designed in-house and include blocky copy with the FLASQ name, running vertically up the bottle next to a stylized silhouette of a traditional wine bottle. Wine varieties are differentiated by a white cap for Chardonnay, a red cap for Merlot. "The target audience encompasses a broad age range—Millennials, Gen-Xers, and Baby Boomers—but the common thread among all these groups is an active lifestyle," says Ridenhour. "They wanted the package graphics to reflect this and to be very modern and contemporary."
Since FLASQ was launched earlier this year, distributors have signed on to provide the new brand to wine retailers, resorts, restaurants, and other venues across 20 states.
Companies in this article