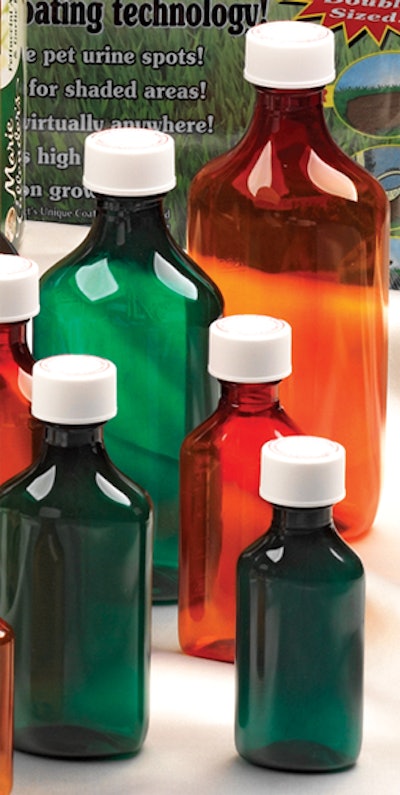 The amber, oval drug bottle for cough syrups and other liquids sold in pharmacies is one of the most well-recognized containers in the pharmaceutical space. Now, however, there's an environmentally friendly twist with the Greener Package Award-winning green or amber PCR PET drug oval with child-resistant Clic-Loc closure from Rexam PLC (www.rexam.com).
Introduced in October 2008, the bottle is "the first and only sustainable PET drug oval to the marketplace," according to Tom Ryder, director of marketing and product management for Rexam Primary and Rx Packaging. The PET resin (whose supplier is deemed proprietary) is stretch blow-molded at Rexam's Berlin, OH, facility into 2-, 3-, 4-, 6-, 8-, 12-, and 16-oz green or amber containers, the same sizes as the company's virgin PET line. "We challenged our materials group to develop a 100-percent post-consumer recycled-material solution for application in our long-standing PET drug oval product line.
The difficulties included identifying a resin that met all FDA and product performance criteria. Additionally, once we successfully identified the material solution, we had to overcome processing issues in the blow-molding process," explains Ryder.
The bottles meet light-transmission and moisture-permeation requirements set by the U.S. Pharmacopeia. The two-piece closure includes an outer HDPE and an inner PP component and makes an audible click when opened. The closure provides CR and senior-friendly properties.
Rexam sells bottles with caps primarily through the wholesale pharmaceutical distribution chain, but in some instances, direct to chain stores. The 100% FDA-approved PCR container represents a dramatic environmental improvement compared to using virgin resin. Ryder says virtually all of Rexam's customers are now using the PCR material.
Says one of the Greener Package Awards judges: "100-percent post-consumer recycled PET resin for recycled ovals is a sustainable solution. The true measure will be to monitor the returned tonnage for recycling containers against production of this product to ensure that the market is committed to this initiative."
Comments another, "A major move to put ethical drugs into PCR PET. Wishful thinking, however, to believe that people will choose their pharmacies based on this packaging—their Rx plan, cost, and location will drive these choices. Also, while technically recyclable, the pigmentation will necessitate a downgrade to lower-value end uses.
See other
Greener Package Award winners
Companies in this article