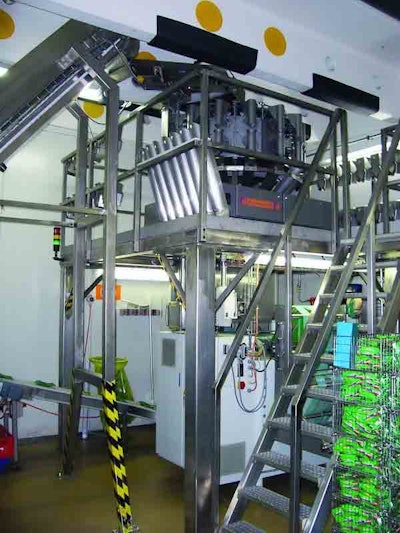 The two items packed on the new vf/f/s system are Bifi Mini and Peperami Mini. Both were multipacked manually before the Hastamat system arrived. The new machine frees up operators to work elsewhere in the plant and has brought a 50% increase in speed.
An incline conveyor takes individually wrapped units up to the distribution plate at the top of the Hastamat system. Packs drop into one of 14 dosing bins arranged around the distribution plate and then into one of 14 weighing bins. The machine controller analyzes the contents of all 14 weighing bins and signals the bins whose combined weight is closest to the target weight to drop their contents down a common tube leading down to the bagger. Servo drives and motors from B&R (www.br-automation.com) play a key role in keeping the weigher and bagger synchronized.
According to Unilever project engineer Torsten Ruetze, a compelling reason for selecting the Hastamat system was its ability to keep the long unit packs of sausage snacks from bridging as they flow through from bucket to bucket to bag material. "We tested a number of systems and found this the only solution that worked," says Ruetze.
Companies in this article