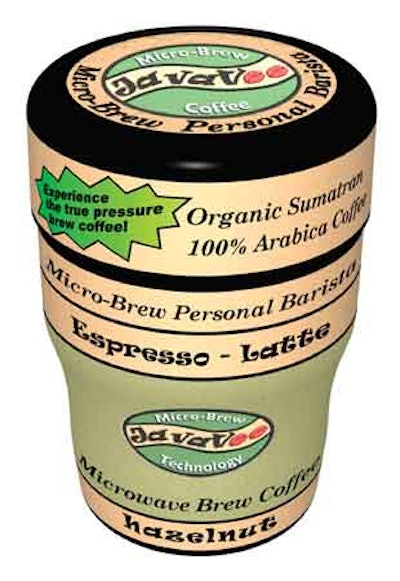 "Our package is made mostly of injection-molded polypropylene," says Robert Vu, president and CEO of Houston, TX-based JavaVoo. The container includes a cup, lid, a printed heat-shrink label, and a two-chamber bottle assembly that contains water in one chamber, and ground coffee in the other. The container also carries packaged coffee creamer and sweetener.
"Using our patented Micro-Brew technology, the pretamped (compacted) ground coffee is isolated and sealed from the water bottle chamber. Once the water is heated to 92ºC or above, it is then released into the ground coffee chamber. The coffee is then collected in the cup below, ready to be served. The product replicates the same pressure-brewing process as an expensive Expresso machine," says Vu.
As shown on the company's Web site, www.javavoo.com, the user removes a tamper-evident seal tab, then the "lid-bottle" from the inside of the cup. Next, he or she turns the container upside-down and tightens the lid-bottle onto the cup. After microwaving on high for two minutes, the user twists off and discards the empty water bottle and consumes the beverage.
Vu says the container generated considerable interest at the FMI show, and he expected commercial applications of it within six months, for established brands, private-label offerings, and for a JavaVoo product. Vu points out that the container can also be used for spiced chai tea, hot chocolate, and herbal energy drinks.
JavaVoo anticipates the 6- to 8-oz product will retail for $1.99 to $2.49, providing consumers "with the same rich and full-bodied taste at a cost of less than a comparable medium-sized cup from a coffee house. Pressure-brewing a cup of Expresso or Latte is easy, with no mess to clean up," says Vu. "Just microwave it for two minutes, drink, then toss it."
Companies in this article