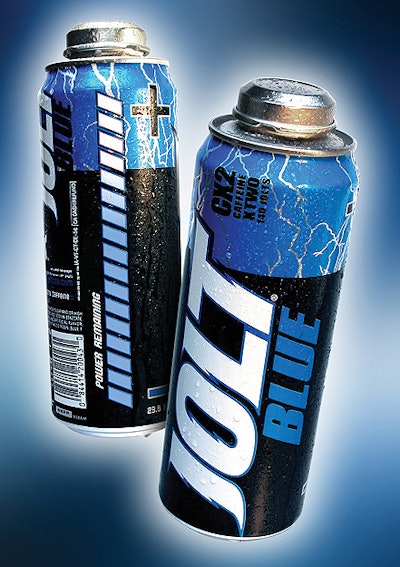 The JOLT Battery Bottle™ is now providing an electric sales charge to retailers and foodservice operators that offer the new package. The new container is the result of a wide-ranging partnership of companies, including Rexam Beverage Can Americas, Dayton Systems Group, and contract packager Pri-Pak.
Jolt, now 20 years old, is the first commercial product to use Cap Can™ technology exclusively available through Rexam. In the process, Rexam makes the aluminum can body at its Whitehouse, OH, can plant, which also prints the cans with thermochromic inks. The can bodies then go to Dayton Systems Group, which applies to the can the patented Cap Can dome end, made of aluminum from Arco Aluminum. Cans and aluminum lug-style caps are then shipped to Pri-Pak, where the packaging line fills the cans through the dome with the carbonated drink, applies the caps, and adds a shrink band for tamper evidence.
"Jolt is a cultural icon, permanently sewn into the American fabric," said CJ Rapp, president and chief executive officer of Wet Planet Beverage, Rochester, NY. "As America's most powerful cola with 'twice the caffeine,' Jolt proved that people wanted more instead of less. As a result, Jolt started a trend for value-added products, and it became the catalyst for the emerging category now called New Age beverages."
The new container has been in Wet Planet's plans for about 18 months. "We brought to Rexam a project to create the Battery Bottle," Rapp says. "They told us they were developing the Cap Can technology. So while we developed the concept internally, we collaborated with Rexam and DSG in adapting our ideas to the container they were developing."
More bottle than can
"This is really a fusion between a bottle and a can," says Steve Wirrig, vice president of marketing for Rexam BCA. "Automatically, it comes across as a beverage can—one of the most common containers—then the consumer sees the resealability function of the cap. So it's not just novel, but functional, and that's what consumers tell us they want."
Pri-Pak fills the new can like a bottle on what has become an extremely versatile filling line in its Lawrenceburg, IN, plant. Wirrig says that Rexam's Technical Services Group worked with Pri-Pak to convert an existing filling line for this container. That line, originally used for glass and plastic containers, now can also fill these aluminum containers. Pri-Pak ended up with a bottling line that's probably one of the most flexible lines in the country, if not the world, says Wirrig. Pri-Pak declined requests for interviews.
The modifications and additions to the filling line were significant and more time consuming than originally expected. As Wirrig explains, Pri-Pak is a contract packager, so its lines need to be more flexible than dedicated lines for carbonated soft drinks.
Although many of the machines in the filling line were modified to run this container, two were added. Rexam worked with Alcoa CSI to develop a cap applicator, and a shrink bander for TE was added as well.
"We selected Alcoa to develop the cap applicator," Wirrig says. "Footprint was a major consideration, and Alcoa had a solution that worked for us and for Pri-Pak. A lot of development went into a particular mechanism that holds the can while the cap is being applied."
Together with Rexam, Pri-Pak teamed up to choose the best vendors for the line conversion and aggressively partnered in the effort to make the line capable.
Handling a big issue
Until they're filled and capped, the lightweight aluminum cans can be subject to damage. Early on, Wirrig recalls, damage was discovered at spots in the line that were unexpected. "As time went by, we continued to improve handling through more investments and modifications," he says. "There's a lot of padding, belts are changed, and we worked hard on material optimization on track work bumpers."
Infeed screws, starwheels, and filling heads were all modified, as were the depalletizers and case packers. The combined Rexam/Pri-Pak team looked at which changes could best be made. "For example, Rexam modified its pallet configurations to help match up with Pri-Pak's equipment," Wirrig says. "We optimized our configuration to give us a good, efficient output while minimizing our capital investments."
And both companies worked together to create a line with even broader application. "We wanted to create a package that could be used on cold-fill carbonated beverages like Jolt, as well as hot-fill beverages," Wirrig states. "So there was a fairly significant investment to ensure that Pri-Pak's line was capable of filling both cold-fill and hot-fill beverages. It's not common to find a line that versatile." Among the other investments was a liquid nitrogen dosing system for noncarbonated beverages.
This was important because Rexam reports a tremendous interest in this package across a lot of different beverage categories. "We've taken a great closure concept with DSG and developed a partnership to make this a commercial success," Wirrig says. "DSG's commitment to bring this functionality to this package was tremendous."
Ten years in the making
Brad Bachmann, vice president at DSG, says his company has been working on this development since 1994, but the market just wasn't ready for it.
"Consumers are now pushing for more New-Age beverages in more convenient packaging," Bachmann says. "They want packaging that offers convenience and functionality. That's what's driving this. We think there will be some sports energy drinks that will become other applications."
DSG receives the decorated cans already necked in, he says. DSG makes the dome, using the Arco Aluminum sheet, applies the compound, and bakes it. The company also forms the caps and applies a sealant material in them. When ready, the dome is double-seamed onto the can body, and the cans are repalletized and sent to Pri-Pak. Caps are shipped separately.
"We're excited about this," says Bachmann. "It represents a new opportunity for us in packaging, and I think we'll see a number of different applications both in this can size and in other sizes." When asked if Rexam expects to see other can sizes, Wirrig exclaimed, "If I do my job right!"
Replacing PET
For Wet Planet Beverages, the project has taken longer than expected, but the payoff looks strong. Distribution began early in January 2005, Rapp says, and the initial reaction "has been quite remarkable" from distributors and retailers.
"We're seeing great response from convenience stores near colleges and high schools, and some ski resorts have told us that Jolt is the fastest-selling item in their stores," Rapp says. He also likes the recyclability of aluminum.
Rapp worked with a designer at Infantino McDermott Associates to develop the graphic design, including the use of thermochromic inks from INX Intl. From top to bottom, the can features what Wet Planet calls a power gauge that shows how much of the drink remains thanks to special inks that change color when the beverage is chilled. As the beverage is consumed, the ink returns to its original color, so the consumer can easily see how much of the drink is left.
While the four-color graphics of the Battery Bottle relate to the caffeine level, they also refer to a special drink, a rum and Jolt that's called a Jumper Cable. "This drink dates back to the late '80s and the band ZZ Top," Rapp says. "It has a cult-like following. We've trademarked the name Jumper Cable, but the arrival of the new package is going to permit us to address that beverage in a more concerted and formal way."
Rapp is excited about the reaction to this container. "It's difficult to excite people today, because we have a long list of competitors, and innovative ones at that," he says. "So the shock value—no pun intended—is difficult to achieve because the threshold has been raised substantially. But virtually every party we've shown this package to has greeted it with enormous enthusiasm."
Rapp acknowledges that the new container is more expensive than the 20-oz PET bottle it replaces. "Fortunately for us—and here we're thankful to our competitors—the single-serve benchmark price has been elevated from 99 cents to $1.49, and more recently to $1.99. So we don't think an estimated retail of $1.79 is going to serve as an obstacle to the potential Jolt consumer.
"Many of our consumers are regular purchasers of energy drinks, oxygenated beverages, and even nutraceutical-enhanced drinks. These usually come at a premium price, typically from $1.49 to as much as $2.49," says Rapp.
Companies in this article