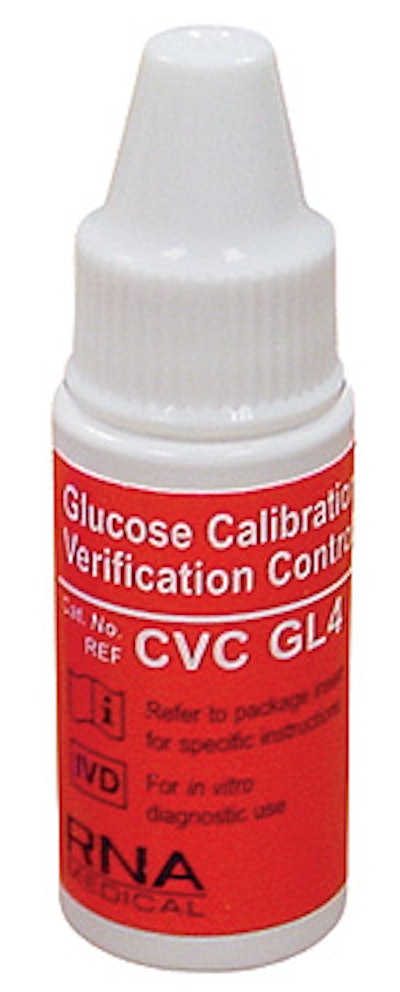 Efficiency and flexibility is a production mandate for Bionostics, Inc., the world's leading manufacturer of quality-control materials for the critical care industry. It develops and manufactures quality-control and calibration solutions for invitro diagnostics.
Founded in 1981, the company moved in 2001 into a new facility in Devens, MA, where it currently operates a vial packaging line that was purchased and started up in November 2000. Dedicated to a single package size—a 6-mL capacity low-density polyethylene vial—the line also provides the flexibility required by Bionostics to offer its customers alternative package configurations. With various dropper, label, and tamper-evident sleeve options, the line yields a total of 100 different stock-keeping units for half a dozen customers, according to vice president of operations Paul Barck. Bionostics doesn't identify its customers, but all are global leaders in diagnostics markets. Bionostics also manufactures quality control solutions for its own RNA Medical Division.
The line's centerpiece is a Variofill™ monobloc system from Kugler division of the Optima Packaging Group. It fills the vials, adds a dispensing tip, and applies a screw cap. Downstream are a Herma GmbH labeler, and shrink band applicator and heat tunnel both from PDC Intl.
European beginnings
The line has a strong German flavor that includes assembly and integration done by Kugler in Germany. Bionostics was "heavily involved" in the up-front specification of the line, Barck says. The line was then disassembled, shipped, and reassembled stateside; Barck says the installation and start-up were accomplished in just two weeks.
"We wanted a supplier with line integration experience since we were purchasing three separate pieces of equipment that needed to be integrated," Barck says. "Overall cost is always a major factor, and the Optima package offered excellent value for the features and services provided.
"Prior to owning this equipment, our packaging methods were both labor-intensive and slow," continues Barck. That line comprised an older, stand-alone 40 vials/min monobloc run by two or three operators. It served as a pilot line to secure business, Barck notes. The new line operates at a rate of 150 vials/min over one extended shift five days/week. It is run by three or four operators who also handle the added functions of labeling, sleeving, and packing into bulk trays.
The 6-mL capacity round LDPE vials are filled with 4 or 5 mL of a test solution used to confirm the accuracy of glucose testers such as those used by diabetics. The vials end up in blood glucose test kits or for use with instruments used in hospitals, laboratories, and homes.
Integrated production
"This is our first integrated production line for these products," says Barck. "The machinery provides an automated process to fill, close, and label the vials with a high degree of consistency and reliability. We are able to accurately predict throughput and capacity based on the consistent performance of the line."
It also offers flexibility, a mandate for a private label manufacturer. Bionostics can offer its customers any of the five following options:
• Filled only.
• Labeled only.
• Filled and labeled.
• Labeled and shrink sleeved.
• Filled, labeled, and shrink sleeved.
Barck says that its highest volume configuration is for vials that are filled and labeled.
The LDPE round vials are automatically placed onto the line by a system comprising a hopper, elevator, and sorter. The vials are moved through the filler via an oval transport conveyor where they are placed into the half-circle cutout of a plastic puck; the vials are secured between the puck and the side guiderail.
Four-up filling
The Variofill is a new model introduced by Optima at Pack Expo 2000. It is an intermittent-motion, four-up machine with stations for filling, plugging, and screw capping. The filling station uses four filling nozzles and four dosing pumps; the plugging station has four heads.
Dosing is via positive displacement rotary pump. Barck pegs the fill accuracy by volume at 0.2% to 0.3%, which is "actually far more accurate than we need for our current applications," he points out. "The fluid dosing system has performed flawlessly."
In the next set of stations, the LDPE dropper tips are applied four-up by a vacuum pick-and-place assembly before the vials index for two-stage capping. Bionostics uses any of three tips that produce drop sizes of 18, 25, or 50 microliters.
After a 13-mm polypropylene screw cap is placed atop the vial, it is torqued down in two stages, each servo-driven. The first stage applies 90% to 95% of the torque required using one servomotor while the second stage applies the remaining torque individually to the four caps using four separate servomotors.
Error checking throughout the machine functions ensures that any improperly assembled vials are automatically rejected and accounted for.
Controls, changeover
The machine's programmable logic controls and HMI interface can store up to 50 different packaging formats.
Barck says that an average of three or four changeovers are made weekly. For a basic production lot changeover where the primary package components don't change, line clearance and restart take less than three hours, according to Barck. If there are dropper tip and closure changes that require change parts, a changeover may take up to four hours. All of the change parts have locating features and numerical setting indicators to simplify adjustments.
The monobloc is designed for sanitation. "The monobloc is well designed to accommodate cleanups for changeovers or if there is a jam, and to retain fluids that may be spilled," says Barck.
"The drive and movement systems of the machine are very robust and have maintained timing, alignment, and adjustments extremely well during production. Due to this, maintenance costs have been very favorable, especially considering our extended, single-shift operation. What we like best about the monobloc is its reliability and predictability."
Capped vials discharge to the Herma labeler that applies a pressure-sensitive label. "We have the ability to label vials as fast as 350 per minute," says Barck. "The labeler is elegantly designed and works very well."
Next is the PDC Model 65-M tamper-evident shrink-sleeve applicator that Barck says "runs extremely well." The full-body band is made of clear, likely 2-mil thick, polyvinyl chloride printed with a black registration mark to orient the opening perforation.
Final steps
Vials travel through a 4'-long heat tunnel from PDC and make a 90° turn via star wheel onto a dead plate unloading magazine. The dead plate allows an operator to sweep the vials into a 500-count corrugated tray. The full-height trays have a fold-down front edge to allow the operator to load them into the tray using a metal blade.
The majority of the 500-count corrugated trays are then loaded two per shipper. The shippers are sent to Bionostics' customers for packing into system kits. The balance are placed into plastic bins and continue through Bionostics packaging operations where the vials are packed into various carton configurations for shipment.
Based on two years' experience, Barck says "The line has performed very well. The overall layout of the line provides for easy access and cleaning, which helps for machine operation, changeovers, and line clearance."
Sure signs of a healthy and productive line.
Companies in this article