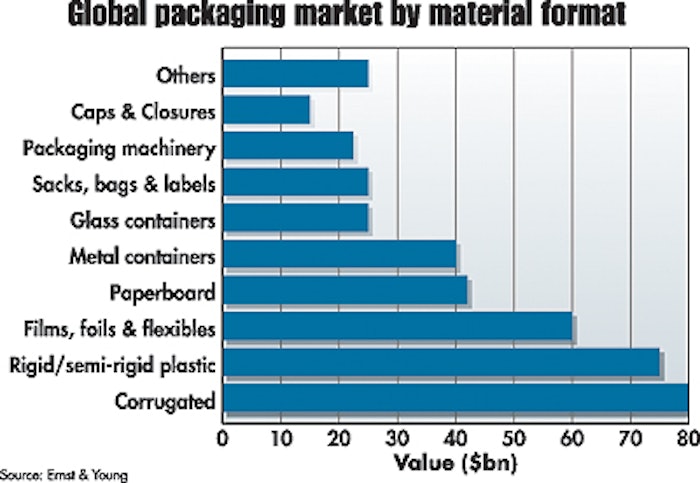 The global packaging market continues to undergo significant structural change, and there can be no better illustration of this than the number of mergers and acquisitions in the sector over the past six years:
• 1996, 361 deals valued at US$11.2 billion
• 1997, 334 deals valued at US$24.9 billion
• 1998, 379 deals valued at US$28.7 billion
• 1999, 368 deals valued at US$39.0 billion
• 2000, 434 deals valued at US$55.5 billion
The number and scope of these deals is hardly surprising, taking into account that the global packaging industry is one of the world's largest and most diverse manufacturing sectors, valued at over US$400 billion. Estimates from the World Packaging Organization suggest the industry employs more than five million people in about 100ꯠ companies worldwide. However, despite this vast scale, packaging is largely a mature sector with growth rates mirroring the global gross domestic product (GDP).
On a global scale, Ernst & Young assesses that the world packaging industry has grown by an average rate of 3.95% per annum between 1993 and 2000, compared with 3.6% for world GDP growth. (See Chart 2 for packaging industry growth rates by region.) Forecasts for 2001 suggest a slowing of both GDP and packaging industry growth.
Some want more, some less
Packaging is now classified as one of the "old economy" industries, but its important role in the food chain (some 70% of all packaging is used for food and drink) gives it great strength, particularly in times of economic and political turmoil.
Although demand for packaging is strong in many developing countries, across most industrialized markets packaging penetration rates are at or near saturation point. Across these major markets, the industry is under siege from mass overcapacity and environmental concerns associated with waste and excess packaging. Therefore, while three quarters of the world needs more packaging, a quarter of the world wants less.
Overall, Ernst & Young estimates that the size of the world packaging industry, including packaging machinery, will reach US$417 billion in 2001 (see Chart 4). The European packaging market is the world's largest, valued at almost US$129 billion, followed by North America at US$116 billion and Japan at US$61 billion. Forecasts for 2001 suggest growth rates of between 1 and 2 % for Europe and North America, with negligible Japanese growth.
Over the past 10 years the packaging industry has evolved into a global sector due to a number of structural changes. On the demand side, customers have become increasingly global, forcing packaging suppliers to seek worldwide positions to service the needs of multinational companies. On the supply side, consolidation has altered the material supply sector, reducing the number of companies producing basic raw materials such as containerboard, resins, and aluminum. Direct industry consolidation has also provided a stimulus to globalization.
Think global, act local
However, despite these trends, the industry remains a very local business with very different market characteristics. For instance, while paper and board is the dominant packaging material across Asia Pacific, its share of the market is significantly lower in Europe and North America.
Overall, estimates suggest that paper and board remains the world's most important packaging material, accounting for just under one third of the market. However, plastics is gaining ground rapidly and is the principal growth sector in most countries. Overall, plastics now accounts for around a 28% share of the world market and is increasingly gaining share at the expense of the US$40 billion metal and US$25 billion glass container sectors. (See Chart 1 for global packaging market by material.)
Although industry consolidation has been marked over the last five years, competition levels within each industry subsector vary considerably, with the industry still generally ripe for further rationalization. The packaging machinery market is the most fragmented, whilst the most highly concentrated sectors of the industry are the glass and metal container markets.
The changing fortunes of the industry are illustrated by the moving landscape of packaging manufacturers, and their positions in the global packaging hierarchy (see Chart 3). During the past two years Smurfit Stone and International Paper have overtaken Crown Cork & Seal to become the global packaging leaders. The UK's largest manufacturer, Rexam, has been notable for its move into tenth position overall and into fifth amongst consumer-oriented packaging companies.
Tim Rothwell is a fellow of the Institute of Packaging and is the director of corporate finance in Ernst & Young's specialist packaging team. To purchase the complete Ernst & Young study, phone Carolin Thomas at Packaging News at 011/44.20.85653049.
Companies in this article