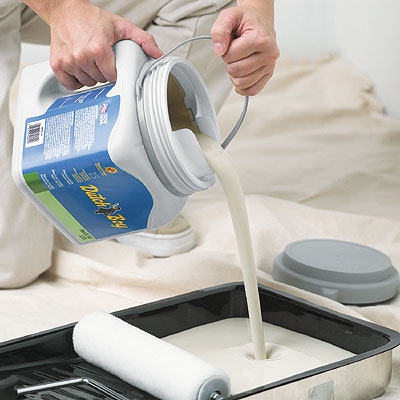 Sherwin-Williams' Dutch Boy Dirt Fighter paints are debuting in an extravagant four-piece square plastic container with loads of consumer convenience features. Called the Twist & Pour, the container is molded of high-density polyethylene, probably by injection, since one corner features an easy-to-pour-from hollow handle. When Packaging World posed some packaging questions to the company, we were informed that everything about the new package is "proprietary."
First off, the container holds 126 oz of paint, just a little shy of a full gallon. The mouth of the jug is 5¾" in diameter, and inside the neck, two tabs are molded in to provide guides for the location of the separate pour spout insert that snaps into the neck. Just below the neck on the outside a plastic bail is attached for easy carrying, much like the steel paint can this container replaces.
Finally, the container is topped by what Dutch Boy calls an easy twist-off closure, molded of polypropylene with two molded outside lugs to make removal and reclosing a bit easier, especially for feminine hands. Two unusually shaped die-cut glossy pressure-sensitive labels each wrap around two sides and the wall opposite the handle, inside shaped recesses.
Dutch Boy director of marketing Adam Chafe says consumers said the new container "was a packaging innovation long overdue." Since marketing efforts will include women's and shelter magazines, the new container is apparently aimed toward the growing number of women that handle decorating chores. According to an article in Cleveland's The Plain Dealer newspaper, the container was test-marketed in Syracuse, NY, to a "fantastic" response, according to Chris Connor, Sherwin-Williams chairman.
Everything about the new container is robust. The container, bail and pour insert together weigh nearly 10 oz, and the cap alone weighs 3.3 oz or 93 g. In part, that's necessary for stacking; a recess in the bottom matches the diameter of the closure's top ring. Plus the square shape can mean improved store shelf efficiency of as much as 8%, Chafe claims. The newspaper article indicated the new package would be priced "a couple bucks" higher than paint in conventional packaging and questioned if the convenience it offers would overcome the price premium. —AO
Companies in this article