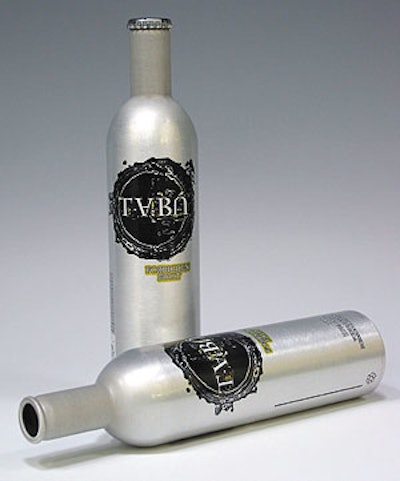 Vodka-based Tabu from Vincor Intl., Mississagua, Ontario, Canada, and RÉ energy drink from Mistic Beverages, White Plains, NY, were introduced in aluminum bottles, both of which are impact extruded and dry-offset printed by CCL Container Aerosol Division (Norwalk, CT).
"With all the other low-alcohol products in glass or plastic, an aluminum bottle offers a distinctive and stunning presentation," says Chris Pfeifer, Vincor brand manager. "When you add graphics that are equally unique, you have a product that offers significant shelf appeal."
Printed in five colors including a clear base coat, the 500-ml brushed aluminum long-necked bottles used for Tabu are produced with proprietary internal and external linings developed specifically for the product requirements. Bottles are topped with traditional crown caps.
"The packaging had to be sophisticated, but subtle," adds Pfeifer. "We want consumers to be able to discover Tabu for themselves." Part of that discovery includes graphic elements that glow yellow when held up to light. Tabu's one flavor, Forbidden Fruit, debuted at Canadian liquor stores in May 2002 where it sells for $3.95 CD.
Meanwhile, Mistic's RÉ, which stands for real energy, also debuted in May. The 14-oz aluminum bottles are printed in a custom silver metallic base coat plus seven colors for two varieties, berry and citrus. That's 6 oz more than industry leader Red Bull, notes Mistic's Mark Beatty, senior director of national accounts. Thus, the larger size uses a resealable metal closure—claimed as a first for an energy drink—that's overwrapped with a shrink band for tamper-evidence.
"The packaging's shelf impact gets consumers to try the product," points out Beatty, "and the aluminum also keeps the beverage cooler longer than glass or plastic." It sells for $1.99 at convenience stores and mass merchandiser outlets and will subsequently be sold in club stores, Beatty adds. —RL
Companies in this article