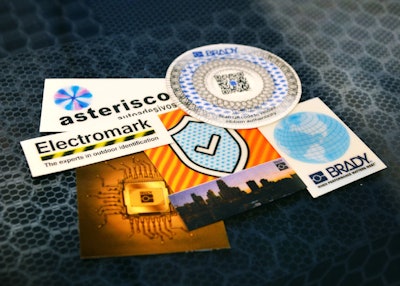 Brady, an industrial and safety printing systems and solutions provider, released the new TruLens Spectrum (TLS) Label Material. This new material uses a thin optical lens film combined with high-resolution printing to offer brand owners customized branding opportunities that are visually compelling as well as very difficult to copy. The visual effects of TLS are non-holographic and can easily be authenticated in various lighting conditions where holograms are ineffective.
"We're excited to add TLS material to our product offering, providing both brand enhancement and brand protection functionality," says Dennis Polinski, Global Product Manager Brand Protection. "This material creates an illusion of movement and animation that encourages the consumer to interact with the product, and it can be fully customized to fit specific brand design guidelines. Our TLS product line is also extremely difficult to replicate, providing a level of brand protection that allows consumers to confirm product authenticity."
The TLS material expands the TruLens Micro-Optic Label Series from Brady that also includes TruLens Exclusive (TLE) label materials. The TLS material is available to any brand owner in any market, while the TLE product line is reserved for brand protection applications where counterfeiting has health and safety implications. All TruLens products are manufactured using proprietary and trade-secret controlled origination, tooling design, and manufacturing processes, and produced under the North American Security Products Organization (NASPO) International security infrastructure. Brady has been certified by NASPO International in the United States and Singapore since 2004 and 2006, respectively.
Companies in this article