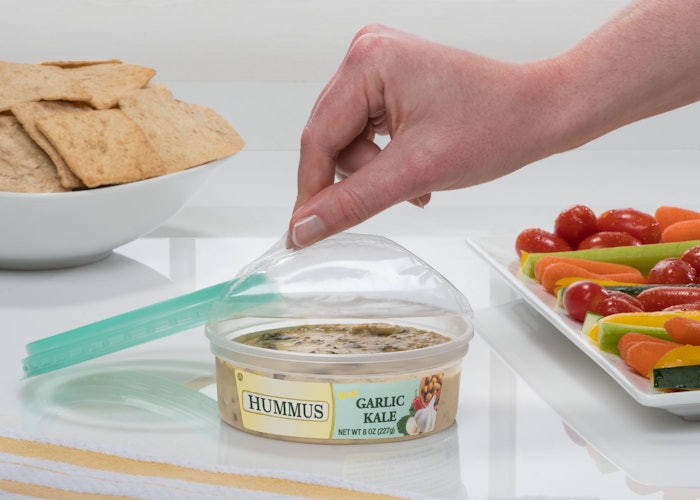 Toray Plastics (America), Inc. introduces LumiLid® XL7AF film, an anti-fog, easy-to-peel PET lidding film for use with fresh and refrigerated food that is packaged in polypropylene (PP) trays, including mineral-filled PP trays. The new XL7AF lidding film, manufactured with Toray's technologically advanced PET film, is enhanced with a proprietary chemically formulated surface for anti-fog performance. Consumers today wish to be able to see easily the food they are considering, and condensation on a clear lidding film is unappetizing. A clear, clean, fresh-looking package is essential for satisfying that preference. New XL7AF film also has a consumer-friendly easy peel. Among today's popular consumer applications are vegetables, hummus, and salsa. In addition, XL7AF can be microwaved, which makes it ideal for refrigerated prepared meals.
The new XL7AF film also has a robust sealant layer, which is achieved by means of Toray's proprietary extrusion-coated sealant blend. When XL7AF is applied to the PP tray it forms a strong, consistent, protective seal, sealing even through overfill on the rim of the tray. Ordinary lidding films are thinner and lack the "caulkability" that XL7AF offers and multi-layer laminations are expensive. The XL7AF seal is strong enough to protect product freshness and is also consumer friendly, providing a quick, easy, clean peel resistant to shredding.
"LumiLid XL7AF was developed for a solution to the problem of visible, undesirable condensation that can occur with fresh food packaged in clear-lidded trays," says Milan Moscaritolo, Senior Director of Sales and Marketing, Lumirror® Division. "New XL7AF film's anti-fog performance contributes to an attractive presentation, and the strong seal helps keep food fresh. Those qualities are essential for brand integrity."
LumiLid XL7AF has a broad sealing range of between 200°F and 350°F for PP trays. It is available in 128, 164, and 200 gauges: the 164 and 200 gauges are designed for a robust narrow matrix rewind. Like all LumiLid films, XL7AF is FDA compliant, made without solvents, and available in bio-based versions made from renewable feedstock. LumiLid XL7AF is part of the LumiLid XLLS portfolio of lidding films, which also includes standard clear, clear high- oxygen barrier, IMS-certified white, and metallized options.
Companies in this article