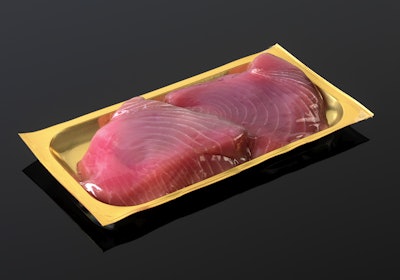 The Cryovac Darfresh10K package is a unique three-dimensional package with a second-skin appearance that showcases the product. The breathable vacuum packaging provides quality assurance, enables extended shelf life for seafood products, and is freezer ready. Strong hermetic seals provide leak resistance. Darfresh10K also enables processors to utilize higher speed equipment for more efficient operation. The product's reduced profile improves shipping characteristics, helping to control costs and further increase efficiencies.
Cryovac LID1050S lidding film is highly breathable due to a proprietary Cryovac process for microperforation of the lidstock. The multilayer film achieves oxygen transfer rate (OTR) at or above the FDA mandated 10,000 OTR for fresh seafood, allowing processors to prepackage product without using modified atmosphere packaging. The film remains fog-free even during refrigeration, offers exceptional transparency and features a uniformly flat top and clean perimeter edges. Strong hermetic seals create a virtually leakproof, case-ready package. The LID 1050S lidstock material runs on traditional tray/lidding equipment and works with both Cryovac SPT and Barrier Foam trays.
Both products may be used for a range of seafood applications and also can be used for prepared, cooked and value-added seafood products.
Companies in this article