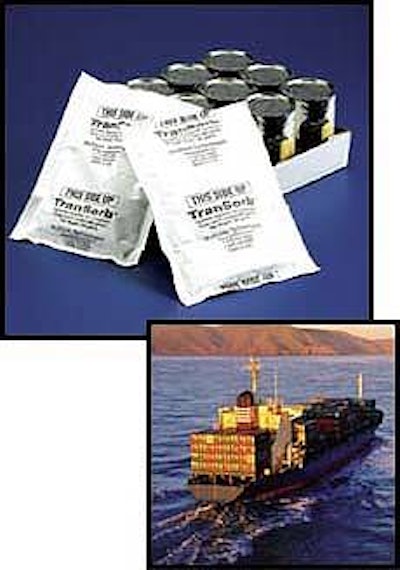 This content was written and submitted by the supplier. It has only been modified to comply with this publication's space and style.
The desiccant bags adsorb large quantities of moisture to safeguard items such as machinery, canned goods, and steel products against rust, as well as to protect food packages from contamination.
TranSorb bags absorb moisture from the atmosphere within a container to prevent condensation from forming as the container heats and cools during the daily cycle.
Advantages
* Bags effective in lowering dewpoint inside shipping and storage containers
* Long-lasting design provides protection against mold, mildew, rust and corrosion up to 45 days or more
* Easy-to-use - Simply place in containers with the number of bags dependent upon container size
* Durable, heat-sealed Tyvek® and film construction
Applications
* Ocean, truck, rail and air shipping containers
* Protection of machinery, canned goods, and steel products against rust
* Protection of food packages from moisture contamination
* Also ideal for storage containers
Protect against damage from container rain
TranSorb Desiccant Bags adsorb large quantities of moisture to protect against damage that condensation within a shipping container can cause. Transporting products during a trip of several days exposes shipments to varying temperatures and humidities, the perfect conditions for condensation to form. The result can be rusted products, peeled-off labels, wrinkled packaging, and other product damage.
TranSorb bags can absorb significant amounts of water vapor, preventing the condensation to protect the shipment and avoid costly returns. The bags are easy to use and can be placed along the edges and bottom of the shipping container as cargo is loaded. Net bags are available for hanging from hooks within a container. Bags are also available with self-adhesive backing.
Multisorb can help you determine how many bags you require
Multisorb has a broad range of experience in protecting products against moisture and can assist you in determining the correct number of TranSorb bags required for your particular application. We will customize a solution to your needs depending on variables such as the product, the length of the trip, climatic conditions likely to be encountered, mode of transportation and other factors.
Companies in this article