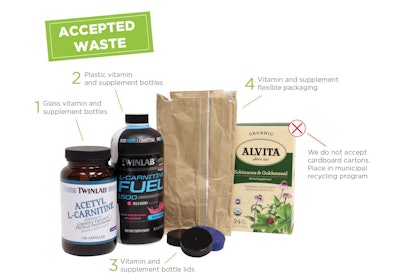 Twinlab, a provider of health and wellness products, is giving consumers a free way to recycle all brands of supplement and vitamin packaging. Through Twinlab's Supplement the Earth Recycling Program, managed by international recycling company TerraCycle, consumers can now send in all brands of empty supplement and vitamin packages for processing, to be repurposed and used again.
"Twinlab is thrilled to enter this exclusive partnership with TerraCycle to provide a recycling solution for not just our brand, but any vitamin or supplement brand," says Twinlab CEO Naomi Whittel. "This program will provide a fundraising opportunity to participants—consumers and retailers alike!"
According to Twinlab, since its inception almost five decades ago, the brand has sought to find "Answers for Life."TerraCycle's mission to solve for difficult-to-recycle products and packaging makes the company a natural partner for Twinlab, which aims to protect the planet though sustainable sourcing methods and supporting local communities. The Supplement the Earth Recycling Program aligns with these initiatives, preventing vitamin and supplement packaging from entering the waste stream.
Once collected, the packaging is cleaned and melted into hard plastic that can be remolded to make new recycled products. Additionally, for every one pound of waste shipped to TerraCycle, collectors can earn $1 to donate to the non-profit, school, or charitable organization of their choice. To date, TerraCycle has diverted nearly 4 billion items from landfill and raised more than $15 million for charity.
"People who enjoy innovative solutions for healthy lifestyles can now help the planet by recycling supplement and vitamin packages," says TerraCycle CEO and Founder Tom Szaky. "As TerraCycle's exclusive partner for the category, Twinlab offers consumers the opportunity to divert packaging from landfills and provide material for the manufacture of new products."
The Twinlab Supplement the Earth Recycling Program is open to any interested individual, school, office, or community organization. Participation is easy: Sign up on the TerraCycle program page and mail in your waste using a prepaid shipping label.
Companies in this article