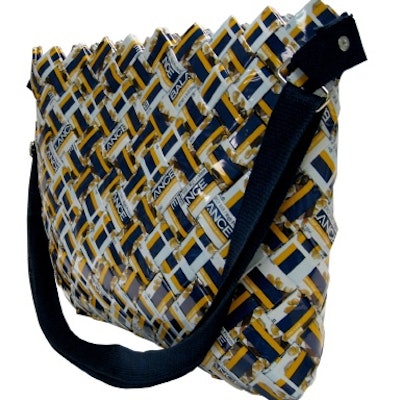 Kraft Foods, Northfield, IL, announced in June a new partnership with TerraCycle, Trenton, NJ, an upstart company that takes packages and materials that are challenging to recycle and converts them into affordable, high-quality goods.
The partnership will greatly expand the number of collection sites TerraCycle has available across the country and will help prevent a significant amount of packaging waste from going into landfills.
Kraft becomes the first major multicategory corporation to fund the collection of used packaging associated with its products. Several Kraft brands, including Balance bars and South Beach Living bars, Capri Sun beverages, and Chips Ahoy! and Oreo cookies, are now the lead sponsors of TerraCycle Brigades. These nationwide recycling programs make a donation for every piece of packaging a location collects. Packaging World has learned that the $1 million-plus Kraft sponsorship is for a three-year period.

"Sustainability is about looking out for future generations," says Jeff Chahley, senior director, sustainability, Kraft Foods. "Kraft is proud to partner with TerraCycle, an innovative company who has made it their mission to reduce the impact on landfills and to educate consumers on the importance of recycling. TerraCycle's model of rewarding 'brigade hosts' is a novel way of collecting packaging waste that would otherwise have been sent to landfills. It's so cool to see trash turned into merchandise that's unlike anything else on the market."

Kraft's brigade programs

There are currently three TerraCycle programs for which Kraft is now the largest sponsor. To encourage more recycling, each program is free to individuals and organizations looking to participate, with all shipping costs prepaid. Once the used packaging items are collected, TerraCycle converts the materials into an eco-friendly product. PW has detailed TerraCycle's other brigades such as its Drink Pouch Brigade, but Kraft's new program supports:
The Energy Bar Wrapper Brigade: collects used bar wrappers and donates two cents for each wrapper collected. TerraCycle braids these wrappers into colorful, durable purses and backpacks. The wrappers also can be fused for other uses. All metallized foil wrappers are eligible, including nonKraft products.
The Cookie Wrapper Brigade: collects used Nabisco and nonKraft brand cookie wrappers and donates two cents for each wrapper collected. TerraCycle uses proprietary technology to fuse the wrappers together into sheets of waterproof fabric, which then can be made into umbrellas, shower curtains, backpacks, placemats and much more. It is expected that 4,000 brigades will be established in the first year.

Each of these Brigade programs diverts packaging waste from landfills and helping to raise consumer awareness about recycling. And with a monetary reward as incentive to recycle, the programs help schools, community groups, and nonprofits across the country earn funds to support local activities.

According to spokesperson Albe Zakes, the collected wrappers are sanitized at TerraCycle in large batches using all-natural, citrus-based cleaners, then dried and sorted into categories and by condition. Wrappers in good condition can be sewn directly into woven bags, while others are fused together as a strong substrate for other uses.

Zakes indicates that in 2009, cross-branding displays will position the original Kraft products next to the TerraCycle upcycled products made from the packaging. Also, "CapriSun and Chips Ahoy! are putting information, our logo and Brigade signup Web site on their packaging later this year, which is very exciting for us," Zakes adds.

TerraCycle is also in talks with other major consumer packaged goods companies such as Procter & Gamble and Frito Lay.
For further information, search "TerraCycle" at Packworld.com for other articles about the company's unique waste repurposing efforts.