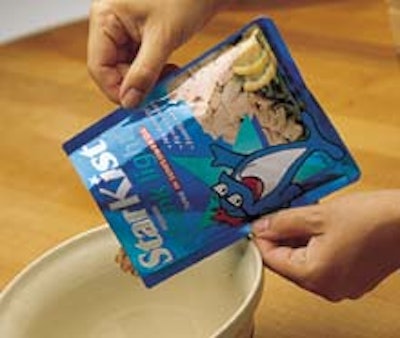 Each vacuum-sealed foil pouch holds 7.06 oz of tuna. The company says the pouch delivers firmer, fresher-tasting tuna. And unlike canned tuna, the pouch contains virtually no liquid, so consumers are spared the messy task of draining.
The rollout follows StarKist's launch of two retorted foodservice pouches that hold 2 lb, 11 oz of tuna (see Packaging World, February, '00, p. 28, or packworld.com/go/retort). As newsworthy as the foodservice pouches were, the use of retorted food pouches by a packager as well-known as StarKist could represent a breakthrough for the flexible pack as an option to the venerable can in the retail market. "StarKist tuna in a pouch is the biggest wave of innovation in tuna since [the company] pioneered canned tuna in the 1920's," says Don Binotto in a press release. Binotto is the managing director of StarKist Seafood, a unit of H.J. Heinz Co., Pittsburgh, PA.
Citing competitive reasons, company spokesman Michael Mullen says no packaging details can be revealed. He credits Interbrand (New York, NY) with developing the pack's dazzling six-color graphics, which tout the new no-drain package at the top. Tear notches on both sealed sides of the pouch provide easy opening.
While StarKist wouldn't confirm packaging specs, the new premade pouch has the same rounded corners as the company's foodservice pouches. Those pouches were supplied by The Pyramid Group (La Habra, CA), and they're packed at a StarKist facility in Ecuador on new Japanese sealing equipment (as is the retail pouch), then retorted on a system from FMC (Homer City, PA).
The new retail pouches carry a $1.99 suggested retail price (vs $2.03 for a 12-oz can) for Chunk Light Tuna in water and Chunk Light Tuna in sunflower oil. Premium Albacore in water is $2.79. Each pack is said to contain enough tuna to make four sandwiches. On the shelf, pouches will be merchandised standing upright in a printed paperboard display tray.
Companies in this article